Literatura
Literature & Poetry Sites
Diccionario Electrónico de la Literatura Colombiana
Literacy, Orality, and Cognition: An Overview - an essay by Mark Willis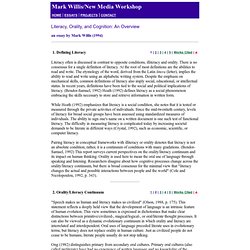 Literacy, Orality, and Cognition: An Overview an essay by Mark Willis (1994) Literacy often is discussed in contrast to opposite conditions, illiteracy and orality. There is no consensus for a single definition of literacy. At the root of most definitions are the abilities to read and write.
Benedetti y Viglietti: A dos voces...(FINAL)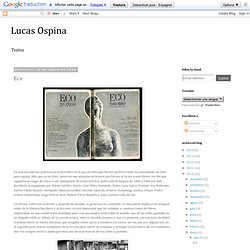 Eco
En una navidad me pidieron en el periódico en el que escribía que hiciera un breve texto recomendando un libro para regalar. Más que en un libro, pensé en una máquina de lectura que llevara al lector a más libros: escribí que regalaría un juego de cinco o seis ejemplares de la Revista Eco, publicada en Bogotá de 1960 a 1984 por Karl Buchholz, acompañado por Rafael Carrillo, Danilo Cruz Vélez, Fernando Charry Lara, Hasso Freiherr Von Maltzahn, Carlos Patiño Roselli, Hernando Valencia Goelkel, Nicolás Suescún, Ernesto Volkening, Aurelio Arturo, Pedro Gómez Valderrama, Jorge Eliécer Ruiz, Ramón Pérez Mantilla y Juan Gustavo Cobo Borda.
Vladimir Holan, la gruta de las palabras
"La poesía es lo que queda cuando desaparecen las palabras. Cada palabra depende de una serie de ecos que unidos a los ecos de las siguientes palabras provoca la música del poema". Poesía al definir la poesía. Palabras de Vladimir Holan, aquel que eligió la oscuridad y durante más de 30 años, –desde 1948 hasta su muerte en 1980–, vivió de noche, con el horario cambiado, dormía de día, encerrado en su casa de la isla de Kampa, situada en el Moldava a su paso por Praga, de la que desde entonces solo salió en contadísimas ocasiones.