Tutorial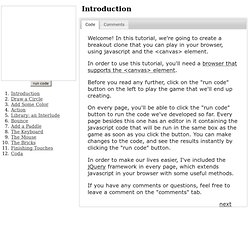 Welcome! In this tutorial, we're going to create a breakout clone that you can play in your browser, using javascript and the In order to use this tutorial, you'll need a browser that supports the <canvas> element.
Canvas Tutorial - Introduction
javapassion.com root page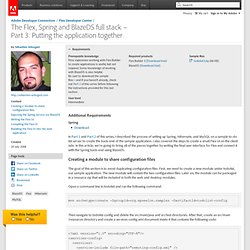 Adobe - Developer Center : The Flex, Spring and BlazeDS full sta
Additional Requirements Spring Download In Part 1 and Part 2 of this series, I described the process of setting up Spring, Hibernate, and MySQL on a sample to-do list server to create the back-end of the sample application. I also covered the steps to create a small Flex UI on the client side.
Additional Requirements Spring Download Welcome to the second installment of this three-part article series. In Part 1 I described the process for creating and configuring a classic standalone Flex module built with flex-mojos. In this section, I'll continue with the development of the sample project (to-do list application) and describe how to create the back-end module, using Spring, Hibernate and MySQL.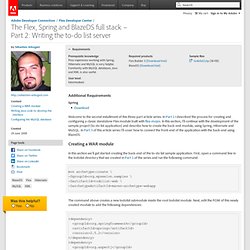 Adobe - Developer Center : The Flex, Spring and BlazeDS full sta
Adobe - Developer Center : The Flex, Spring, and BlazeDS full st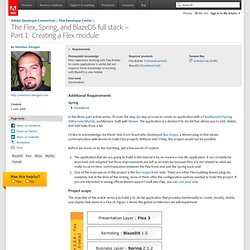 The most challenging part of the project is setting up the Maven build. This project could have been built with Ant, but I don't particularly enjoy writing Ant scripts. As for using an IDE to build projects, depending on a particular development environment is usually not a good idea because any serious project needs some degree of testing and continuous integration.
Nous regrettons de devoir vous informer que le projet "SELFHTML en français" ne peut pas être maintenu. Les sites Web sont restés longtemps sans entretien et les responsables du projet doivent s'engager en priorité dans la continuation de la version allemande. Wir bedauern mitteilen zu müssen, dass wir das Projekt "SELFHTML auf Französisch" vorerst eingestellt haben. Das Projekt ist vor einer ganzen Weile zum Stillstand gekommen und das Redaktionsteam konzentriert sich aktuell auf die Weiterentwicklung der deutschen Version.