Tutorial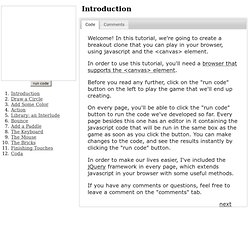 Welcome! In this tutorial, we're going to create a breakout clone that you can play in your browser, using javascript and the In order to use this tutorial, you'll need to have a relatively recent version of Firefox , Safari , or Opera .
Canvas Tutorial - Introduction
javapassion.com root page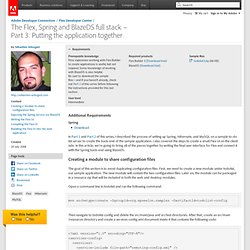 Adobe - Developer Center : The Flex, Spring and BlazeDS full sta
Additional Requirements Spring In Part 1 and Part 2 of this series, I described the process of setting up Spring, Hibernate, and MySQL on a sample to-do list server to create the back-end of the sample application. I also covered the steps to create a small Flex UI on the client side. In this article, we're going to bring all of the pieces together by writing the final user interface for Flex and connect it with the Spring back-end using BlazeDS.
Adobe - Developer Center : The Flex, Spring and BlazeDS full sta
Adobe - Developer Center : The Flex, Spring, and BlazeDS full st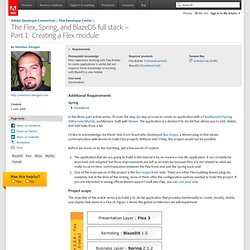 The most challenging part of the project is setting up the Maven build. This project could have been built with Ant, but I don't particularly enjoy writing Ant scripts. As for using an IDE to build projects, depending on a particular development environment is usually not a good idea because any serious project needs some degree of testing and continuous integration.