Tutorial
Informatique. Python. Canvas Tutorial - Introduction. Welcome!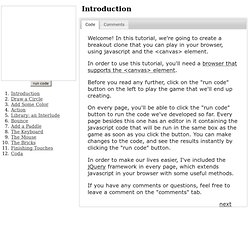 In this tutorial, we're going to create a breakout clone that you can play in your browser, using javascript and the In order to use this tutorial, you'll need a browser that supports the <canvas> element. Javapassion.com root page. Developer Center : The Flex, Spring and BlazeDS full sta. Additional Requirements Spring Download In Part 1 and Part 2 of this series, I described the process of setting up Spring, Hibernate, and MySQL on a sample to-do list server to create the back-end of the sample application.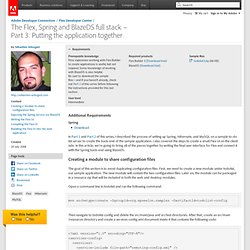 I also covered the steps to create a small Flex UI on the client side. Developer Center : The Flex, Spring and BlazeDS full sta. Additional Requirements Spring Download Welcome to the second installment of this three-part article series.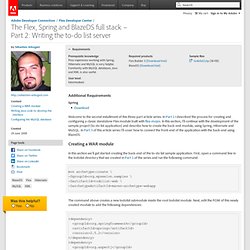 In Part 1 I described the process for creating and configuring a classic standalone Flex module built with flex-mojos. In this section, I'll continue with the development of the sample project (to-do list application) and describe how to create the back-end module, using Spring, Hibernate and MySQL. Developer Center : The Flex, Spring, and BlazeDS full st. The most challenging part of the project is setting up the Maven build.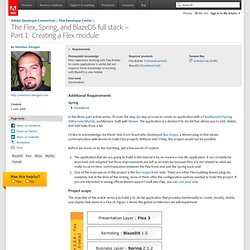 This project could have been built with Ant, but I don't particularly enjoy writing Ant scripts. As for using an IDE to build projects, depending on a particular development environment is usually not a good idea because any serious project needs some degree of testing and continuous integration. SELFHTML 8.0 (réaliser soi-même des fichiers HTML)
---