More Cool Stuff
Erreur HTTP 404 – Non trouvé Désolé, ce lien n'est plus valide. Il est possible que certains liens soient brisés en raison de la nouvelle conception du site. L'information que vous cherchez pourrait se trouver ailleurs dans le site.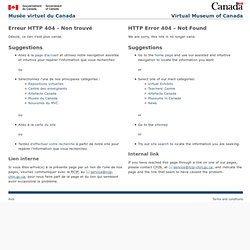 Musical Composition
Official Jewish Tartan - View Jewish Tartan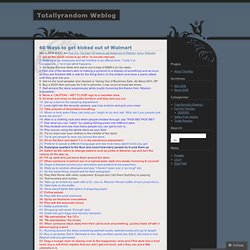 1. Set all the alarm clocks to go off in 10-minute intervals2. Walk up to an employee and tell him/her in an official tone, "Code 3 in housewares,…"and see what happens.3. Go to the Service Desk and ask to put a bag of M&M's on lay away.4.Find one of the workers who is making a pyramid or a display of something and as soon as they are finished with it, ask for the thing that's on the bottom and have a panic attack until they give it to you. 5. Get on the loud speaker and declare a "Going Out of Business Sale, All Items 99% Off"
60 Ways to get kicked out of Walmart « Totallyrandom Weblog
More Java applets here. If your browser supports Java, you should see an animated image above (generated by a Java applet embedded on the page). Otherwise, you should see a static image. Instructions for Viewing the Illusion: Sit about 50 cm (20 inches) from the screen.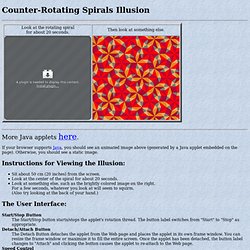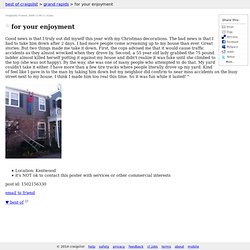 Originally Posted: 2009-12-09 11:32am Good news is that I truly out did myself this year with my Christmas decorations. The bad news is that I had to take him down after 2 days. I had more people come screaming up to my house than ever. Great stories. But two things made me take it down.
for your enjoyment
Backgrounds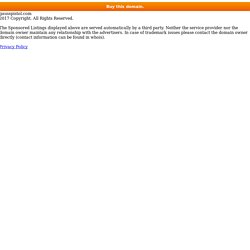 Gauss Pistol Home
A Real Electromagnetic Pistol! T hree coils are precisely pulsed in sequence to f ire a steel projectile Two i nfrared s ensors detect the
Bald Eagle Sounds