Government
Research. U.S. Copyright Office Home Page. Applying for Social Security Benefits - Welcome. You are exiting the Social Security Administration's website.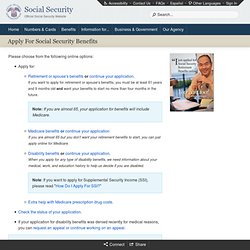 Select OK to proceed. Disclaimer The Social Security Administration (SSA) website contains links to websites not affiliated with the United States government. These may include State and Local governmental agencies, international agencies, and private entities. SSA cannot attest to the accuracy of information provided by such websites. Foreign Policy: How to Start Your Own Country in Four Easy Steps. Step 1: Make sure you are eligible As tempting as it might be to declare your cubicle a sovereign state, customary international law actually does specify minimum standards for statehood. You must have a defined territory. You must have a permanent population. You must have a government.
---