Nouveautés
LivingSocial tests time-of-day-targeted location-based mobile deals - Mobile Marketer - Commerce. By Staff reports April 15, 2011 Will LivingSocial beat Groupon is the daily deals race?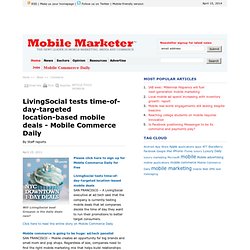 Please click here to sign up for Mobile Commerce Daily for free LivingSocial tests time-of-day-targeted location-based mobile dealsSAN FRANCISCO – A LivingSocial executive at ad:tech said that the company is currently testing mobile deals that let companies decide the time of day they want to run their promotions to better target consumers.Click here to read the entire story on Mobile Commerce Daily. Dealy, l'agrégateur international de deals locaux, lance son application iPhone. Dealy se démarque des autres agrégateurs de bons plans par sa dimension locale / internationale.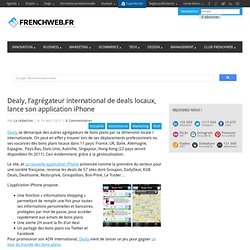 On peut en effet y trouver lors de ses déplacements professionnels ou ses vacances des bons plans locaux dans 11 pays: France, UK, Italie, Allemagne, Espagne, Pays-Bas, Etats-Unis, Autriche, Singapour, Hong-Kong (22 pays seront disponibles fin 2011). Ceci évidemment, grâce à la géolocalisation. Le site, et sa nouvelle application iPhone annoncée comme la première du secteur pour une société française, recense les deals de 57 sites dont Groupon, DailyDeal, KGB Deals, Dealissime, Resto-privé, Groupolitan, Bon-Privé, Le Trader… L'application iPhone propose:
Groupon Launching "Groupon Now" Mobile Deals Service In April. Cash Registers May Get a Groupon Button. (This story was corrected to remove reference in third paragraph to cash registers by Groupon COO.)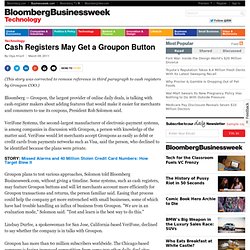 Bloomberg — Groupon, the largest provider of online daily deals, is talking with cash-register makers about adding features that would make it easier for merchants and consumers to use its coupons, President Rob Solomon said. VeriFone Systems, the second-largest manufacturer of electronic-payment systems, is among companies in discussion with Groupon, a person with knowledge of the matter said. VeriFone would let merchants accept Groupons as easily as debit or credit cards from payments networks such as Visa, said the person, who declined to be identified because the plans were private. Groupon plans to test various approaches, Solomon told Bloomberg Businessweek.com, without giving a timeline.
Toute la collection Hello Kitty à -50% ! Nombre de bons par personne illimité / Bons non cumulables Bon de 30€ valable sur le site Hellokittyboutique.fr (hors frais de port) / A utiliser avant le 15 mai 2011 Les codes pour votre commande seront envoyés dans les 24 heures suivant votre achat Elle est adorable, elle est gentille, elle est coquette, elle est jolie, c'est un petit chat, tout le monde la connait, c'est....
HELLO KITTY. FICHE D'IDENTITE / Son nom : Hello Kitty Sa date de naissance : le 1er novembre 1974 Sa vie : Hello Kitty habite à Londres, avec ses parents et sa soeur jumelle, Mimmy.
---