Coupons mobile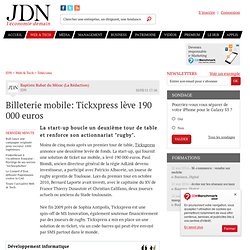 La start-up boucle un deuxième tour de table et renforce son actionnariat "rugby".
Billeterie mobile: Tickxpress lève 190 000 euros
(This story was corrected to remove reference in third paragraph to cash registers by Groupon COO.) Bloomberg — Groupon, the largest provider of online daily deals, is talking with cash-register makers about adding features that would make it easier for merchants and consumers to use its coupons, President Rob Solomon said. VeriFone Systems, the second-largest manufacturer of electronic-payment systems, is among companies in discussion with Groupon, a person with knowledge of the matter said.
Cash Registers May Get a Groupon Button