Musique
Boutique en ligne d'harmonia mundi - musique classique, jazz, musiques du monde
La boutique en ligne harmonia mundi vous propose de retrouver tout le catalogue musique classique CD, DVD - harmonia mundi à commander directement en ligne. La sélection musique classique comporte les œuvres majeures du répertoire, interprétées par les plus grands musiciens. Avec la musique classique - harmonia mundi , retrouvez les grands classiques de la musique orchestrale en CD, DVD et coffret. Les amateurs d'art lyrique pourront découvrir ou redécouvrir les plus grands interprètes dans le catalogue des opéras et d'art vocal ainsi que dans la rubrique musique sacrée. A écouter également, les nouveautés ballet en CD, DVD et Coffret pour apprécier des instants rares de grande musique.
ACT Music + Vision
Lisa LeBlanc - Premier album - le 25 mars (info du 25/03/2013) « Moi, Lisa LeBlanc, je joue du folk trash. Je suis une Acadienne qui roule ses « r », qui aime se moquer d'elle-même, qui écrit des textes sans trop de froufrous et qui est tannée de chanter des chansons de fi-filles !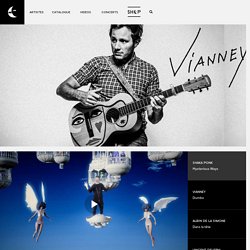 Anoushka Shankar Online: The official Web Site
I am Rising Below is the letter Change.org sent out in my name to support One Billion Rising. Please sign the petition, then rise up! Petition: www.change.org/rising I am Rising.
Musique KARSH KALE | Ecouter gratuitement et télécharger
Omar Sosa :::&::: Otá Records
Mirror To The Soul Documentary Film Buy/ info here Over two years in the making, Mirror to the Soul is a new documentary film about the Caribbean, a unique collaboration between Soul Jazz Records and British Pathé, made up entirely of newsreel footage filmed during the period 1922-1970. 'Mirror to the Soul: Music, Culture and Identity in the Caribbean 1920-72' is a massive new release from Soul Jazz Records comprising 2 music CDs, this two-hour documentary DVD and a 72-page book as well as 2 vinyl editions.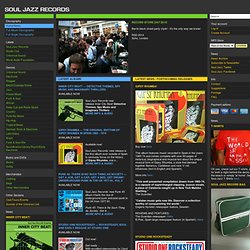 Soul Jazz Records
site de Lyovez