Camino de Santiago
Adjusting TFX packs (Torso Fit System) Lowe Alpine Centro Test Report by Thomas Vickers - Backpackgeartest.org. Tester Background: I grew up in the piney woods of southeast Texas.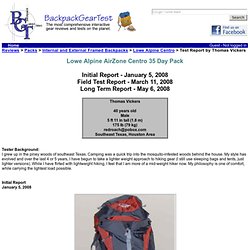 Camping was a quick trip into the mosquito-infested woods behind the house. My style has evolved and over the last 4 or 5 years, I have begun to take a lighter weight approach to hiking gear (I still use sleeping bags and tents, just lighter versions). Lightweight walking - back packing minimalist style. I decided to do a bit of research for that quality sleeping bag I'd always promised myself.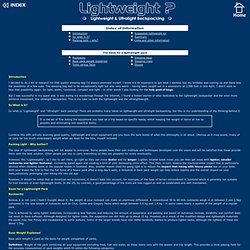 I knew it'd be expensive to get what I wanted, but my birthday was coming up and there was the possibility of a few subs. The sleeping bag had to be exceptionally light but also very warm - having been caught out in a snowstorm at 2,500 feet in late April, I didn't want to face that possibility again. So light, warm, functional, compact and light - in other words I was looking for the holy grail of bags. But I was successful in my quest and, it was during my wanderings through the Internet, I found a hidden warren of sites dedicated to the lightweight backpacker and the even more extreme movement, the ultralight backpacker.
Hiking Boots Buying Guide - Buy the Best Day Hiking Shoes. When it comes to choosing the correct Hiking Boots, you should always have a few goals in mind: you want your boots to be as light and comfortable as possible while keeping your feet dry, warm, and well-protected.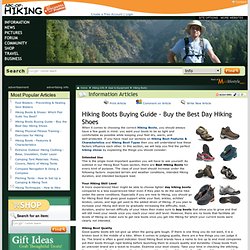 If you have read our sections on Hiking Boot Features & Characteristics and Hiking Boot Types then you will understand how these factors influence each other. In this section, we will help you find the perfect hiking shoes by explaining the things you should consider: Backpacks: Finding Your Torso and Hip Size: Expert Advice from REI. How to Choose a Backpack: Expert Advice from REI. Spain SIM card for £29.99, available from 0044.
---