Wave
Google Wave's Massive Potential for Business Users. Howard Greenstein is a Social Media Strategy and Marketing consultant, and President of the Harbrooke Group.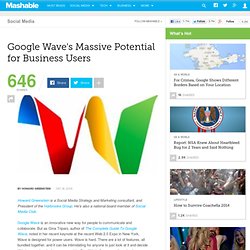 He's also a national board member of Social Media Club. Google Wave is an innovative new way for people to communicate and collaborate. But as Gina Tripani, author of The Complete Guide To Google Wave, noted in her recent keynote at the recent Web 2.0 Expo in New York, Wave is designed for power users. Wave France - Tout sur Google Wave. Wavera bien qui wavera le dernier.
« Attends, je termine ce blip.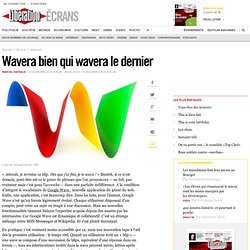 Dès que j'ai fini, je te wave ! » Bientôt, si ce n'est demain, peut-être est-ce le genre de phrases que l'on prononcera -- en fait, pas vraiment mais c'est pour l'accroche -- dans une parfaite indifférence. A la condition d'intégrer le vocabulaire de Google Wave , nouvelle application du géant du web. 4 Surprising Google Wave Uses. Now that Google Wave has opened up to one million users and there are countless unused invites floating around, just about anyone who wants to take Google's new collaboration tool for a spin can do so.
Sure, some users are disappointed with the platform, but if you're among them you'll have to admit that whether it's going to catch on or not, it's been used for some neat stuff. Four uses in particular have stood out for their cleverness and high fun factor, and you probably didn't see any of them coming. Extensions List (Google Wave Extensions List) Google Wave Introduces Read-Only Wave Access. In its current state Google Wave is decidedly not ready for the masses, but two just-launched features — read-only participants and restore from playback — will certainly make it more appealing to business users.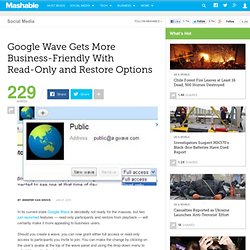 Should you create a wave, you can now grant either full access or read-only access to participants you invite to join. You can make the change by clicking on the user's avatar at the top of the wave panel and using the drop-down menu to adjust his read/write status. Thankfully read-only privileges extend to groups, which means you can now finally make a public wave read-only as well. Google Wave - Communicate and collaborate in real time. As we announced in August 2010, we are not continuing active development of Google Wave as a stand-alone product.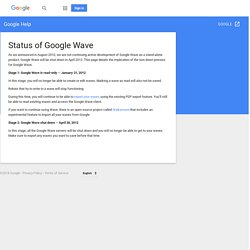 Google Wave will be shut down in April 2012. This page details the implication of the turn down process for Google Wave. 5 Ways to Use Google Wave for Business. Sharlyn Lauby is the president of Internal Talent Management (ITM) which specializes in employee training and human resources consulting.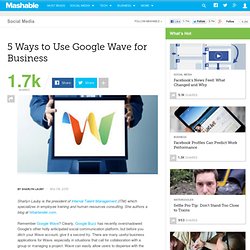 She authors a blog at hrbartender.com. Remember Google Wave? Clearly, Google Buzz has recently overshadowed Google's other hotly anticipated social communication platform, but before you ditch your Wave account, give it a second try. There are many useful business applications for Wave, especially in situations that call for collaboration with a group or managing a project. Wave can easily allow users to dispense with the formalities (and expenses) of meetings, phone calls, travel, etc. and instead make it easy to collaborate across time and space. How To Use Google Wave for Live Blogging. Last month we wrote a short post about using Google Wave for live blogging.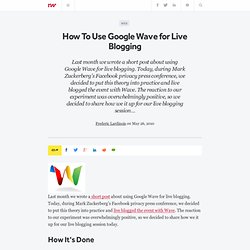 Today, during Mark Zuckerberg's Facebook privacy press conference, we decided to put this theory into practice and live blogged the event with Wave. The reaction to our experiment was overwhelmingly positive, so we decided to share how we it up for our live blogging session today. How It's Done It's surprisingly easy.
---