Wave
Get flash to fully experience Pearltrees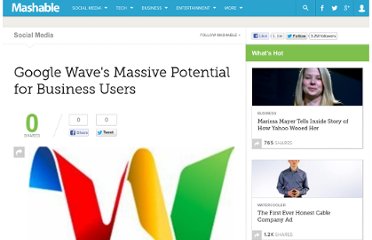 Howard Greenstein is a Social Media Strategy and Marketing consultant, and President of the Harbrooke Group . He's also a national board member of Social Media Club . Google Wave is an innovative new way for people to communicate and collaborate. But as Gina Tripani, author of The Complete Guide To Google Wave , noted in her recent keynote at the recent Web 2.0 Expo in New York, Wave is designed for power users.
Now that Google Wave has opened up to one million users and there are countless unused invites floating around, just about anyone who wants to take Google's new collaboration tool for a spin can do so. Sure, some users are disappointed with the platform, but if you're among them you'll have to admit that whether it's going to catch on or not, it's been used for some neat stuff. Four uses in particular have stood out for their cleverness and high fun factor, and you probably didn't see any of them coming.
Dans: Astuces - Article écrit par : Julien 30 nov 2009 Si Wave peut être amélioré avec l'ajout de bots ou gadgets , c'est aussi le cas de Wordpress, le célèbre moteur de blog qui héberge entre autres Wave France . Ainsi, avec le plugin Wavr , il est possible d'intégrer une wave dans un billet. Outre le coté « gadget » de la chose, cela permet de diffuser du contenu situé dans Google Wave et de bénéficier des avantages de Google Wave : partage, interaction, mise à jour… En effet, dès que la wave est modifiée, la modification s'effectue en direct sur le site ! Pour installer Wavr, vous devez :
Dans: Outil - Article écrit par : Julien 10 déc 2009 Vous l'avez peut être lu, Thunderbird 3, le client de messagerie open source et gratuit de Mozilla vient de sortir en version 3 . Parmi les nouveautés, on retrouve l'utilisation des onglets, démocratisée par un autre logiciel de la fondation : Firefox. Du coup, à utiliser les onglets, une manipulation relativement facile va vous permettre d'intégrer Google Wave à Thunderbird, et réunir ainsi sous un même logiciel Wave et votre compte mail.
In its current state Google Wave is decidedly not ready for the masses, but two just-launched features — read-only participants and restore from playback — will certainly make it more appealing to business users. Should you create a wave, you can now grant either full access or read-only access to participants you invite to join. You can make the change by clicking on the user's avatar at the top of the wave panel and using the drop-down menu to adjust his read/write status. Thankfully read-only privileges extend to groups, which means you can now finally make a public wave read-only as well.
As we announced in August 2010, we are not continuing active development of Google Wave as a stand-alone product. Google Wave will be shut down in April 2012. This page details the implication of the turn down process for Google Wave. Stage 1: Google Wave is read-only -- January 31, 2012 In this stage, you will no longer be able to create or edit waves.
Sharlyn Lauby is the president of Internal Talent Management (ITM) which specializes in employee training and human resources consulting. She authors a blog at hrbartender.com . Remember Google Wave ? Clearly, Google Buzz has recently overshadowed Google's other hotly anticipated social communication platform, but before you ditch your Wave account, give it a second try. There are many useful business applications for Wave, especially in situations that call for collaboration with a group or managing a project. Wave can easily allow users to dispense with the formalities (and expenses) of meetings, phone calls, travel, etc. and instead make it easy to collaborate across time and space.
Last month we wrote a short post about using Google Wave for live blogging. Today, during Mark Zuckerberg's Facebook privacy press conference, we decided to put this theory into practice and live blogged the event with Wave . The reaction to our experiment was overwhelmingly positive, so we decided to share how we it up for our live blogging session today.