Google et vie privée
Don't give Google control over your online life | Leave Google B
Google CEO Eric Schmidt on privacy
Google Chrome : All your data are belong to us !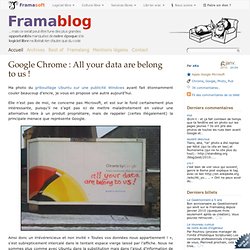 Ma photo du gribouillage Ubuntu sur une publicité Windows ayant fait étonnamment couler beaucoup d'encre, je vous en propose une autre aujourd'hui.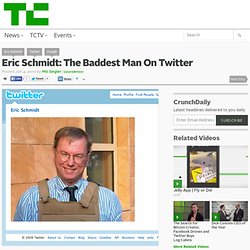 Eric Schmidt: The Baddest Man On Twitter
Stop what you're doing right now (reading this) and go look at Google CEO Eric Schmidt's latest Twitter profile picture. Now look closer. Yes, it appears he's wearing a flak jacket, also known as a bullet-proof vest. As the New York Times' Nick Bilton points out, this picture likely comes from a recent trip Schmidt took to Iraq.
If you have something that you don't want anyone to know, maybe you shouldn't be doing it in the first place. If you really need that kind of privacy, the reality is that search engines -- including Google -- do retain this information for some time and it's important, for example, that we are all subject in the United States to the Patriot Act and it is possible that all that information could be made available to the authorities.
Asa Dotzler: Firefox and more: if you have nothing to hide...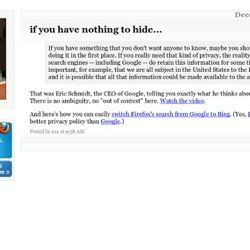 Mozilla Firefox
Bing
Mozilla recommande Bing plutôt que Google - Actualités informati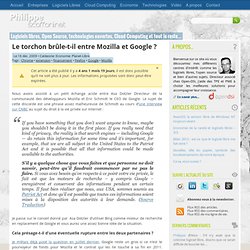 Cet article a été publié il y a 3 ans 11 mois 26 jours, il est donc possible qu'il ne soit plus à jour. Les informations proposées sont donc peut-être expirées. Nous avons assisté à un petit échange acide entre Asa Dotzler Directeur de la communauté des développeurs Mozilla et Eric Schmidt le CEO de Google.
Le torchon brûle-t-il entre Mozilla et Google ? – Philippe Scoff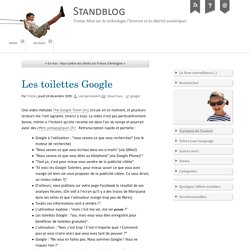 Une vidéo intitulée The Google Toilet circule en ce moment, et plusieurs lecteurs me l'ont signalée.
Les toilettes Google
Le patron de Google estime que la protection de la vie privée es
Google et vie privée : le PDG politiquement incorrect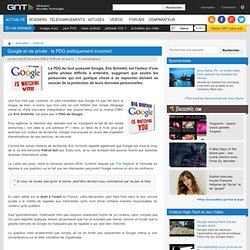 INFORMATION : Si vous souhaitez la survie d'un accès gratuit aux sites web, nous vous remercions de bien vouloir désactiver votre bloqueur de publicité ou de nous mettre en liste blanche. Merci de votre compréhension afin de nous aider à continuer de vous fournir gratuitement de l'information de qualité.Plus d'explications
Comptes Google
La NSA va aider Google à renforcer sa sécurité - Actualités Sécu