Google et vie privée
Are you someone who's bothered by the notion of a 1984-esque future where everything you say and do is recorded? A future where big corporations (and the government) always know where you are, who you're with, what your interests are, and what you're up to? Well, you should know that the company at the forefront of making that future a reality is a big firm that goes by the name of Google, based out of Mountain View, California. Google's own former chief executive Eric Schmidt has made no secret of the company's ambitions on many occasions. Read these quotes: " Google policy is to get right up to the creepy line and not cross it … We don't need you to type at all.
Don't give Google control over your online life | Leave Google B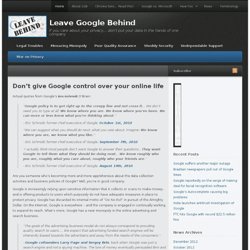 Google CEO Eric Schmidt on privacy
Google Chrome : All your data are belong to us !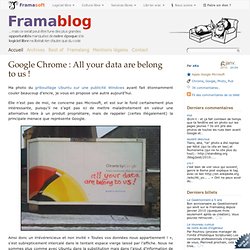 Ma photo du gribouillage Ubuntu sur une publicité Windows ayant fait étonnamment couler beaucoup d'encre, je vous en propose une autre aujourd'hui. Elle n'est pas de moi, ne concerne pas Microsoft, et est sur le fond certainement plus intéressante, puisqu'il ne s'agit pas ici de mettre maladroitement en valeur une alternative libre à un produit propriétaire, mais de rappeler (certes illégalement) la principale menace que représente Google. Ainsi donc un irrévérencieux et non invité « Toutes vos données nous appartiennent ! », s'est subrepticement intercalé dans le tentant espace vierge laissé par l'affiche. Nous ne sommes plus comme avec Ubuntu dans la substitution mais dans l'ajout d'information de type… Wikipédia (sic), à la petite différence près que l'auteur du méfait s'est inventé lui-même un bouton « modifier » ;-)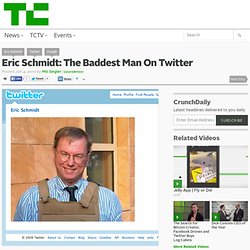 Eric Schmidt: The Baddest Man On Twitter
Stop what you're doing right now (reading this) and go look at Google CEO Eric Schmidt's latest Twitter profile picture. Now look closer. Yes, it appears he's wearing a flak jacket, also known as a bullet-proof vest. As the New York Times' Nick Bilton points out, this picture likely comes from a recent trip Schmidt took to Iraq.
If you have something that you don't want anyone to know, maybe you shouldn't be doing it in the first place. If you really need that kind of privacy, the reality is that search engines -- including Google -- do retain this information for some time and it's important, for example, that we are all subject in the United States to the Patriot Act and it is possible that all that information could be made available to the authorities. That was Eric Schmidt, the CEO of Google, telling you exactly what he thinks about your privacy. There is no ambiguity, no "out of context" here. Watch the video . And here's how you can easily switch Firefox's search from Google to Bing .
Asa Dotzler: Firefox and more: if you have nothing to hide...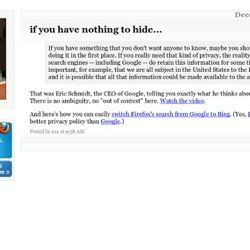 In today's fast-paced business world it is crucial to be able to manage all of your tasks and the activities of the people who you are responsible for. That's why nowadays it is simply impossible to work without using online project management software. With these smart applications the tasks are highly ordered, thus increasing the productivity and quality of your work. On the Internet you can find many and various offers for online project management software.
Mozilla Firefox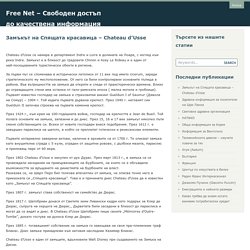 Microsoft Public License (Ms-PL) This license governs use of the accompanying software. If you use the software, you accept this license. If you do not accept the license, do not use the software.
Bing
Mozilla recommande Bing plutôt que Google - Actualités informati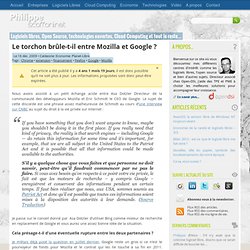 Cet article a été publié il y a 4 ans 1 mois 19 jours, il est donc possible qu'il ne soit plus à jour. Les informations proposées sont donc peut-être expirées. Nous avons assisté à un petit échange acide entre Asa Dotzler Directeur de la communauté des développeurs Mozilla et Eric Schmidt le CEO de Google.
Le torchon brûle-t-il entre Mozilla et Google ? – Philippe Scoff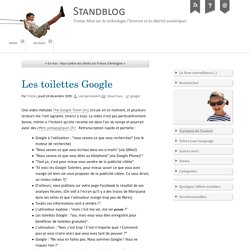 Une vidéo intitulée The Google Toilet circule en ce moment, et plusieurs lecteurs me l'ont signalée. (merci à eux). La vidéo n'est pas particulièrement bonne, même si l'histoire qu'elle raconte est dans l'air du temps et pourrait avoir des effets pédagogiques . Retranscription rapide et partielle :
Les toilettes Google
Le patron de Google estime que la protection de la vie privée es
Google et vie privée : le PDG politiquement incorrect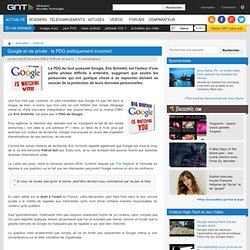 Une fois n'est pas coutume, on peut considérer que Google n'a pas fait dans la langue de bois, à moins que tout cela ne soit l'affaire d'un simple dérapage verbal ou d'une mauvaise interprétation des propos tenus sur la chaîne CNBC par Eric Schmitd, nul autre que le PDG de Google. Pour légitimer la rétention des données tout en soulignant le fait de les rendre anonymes ( non liées à une adresse IP ) dans un délai de 9 mois pour par exemple son moteur de recherche, Google met souvent en avant des impératifs d'améliorations de ses services, de sécurité. Comme les autres moteurs de recherche, Eric Schmitd rappelle également que Google est sous le coup de la loi anti-terroriste Patriot Act aux États-Unis, et le cas échéant doit pouvoir fournir aux autorités diverses informations utiles. Le cadre est posé, reste la fameuse phrase d'Eric Schmitd relayée par The Register et formulée en réponse à une question sur le fait que les internautes perçoivent Google comme un ami de confiance :
Comptes Google
La NSA va aider Google à renforcer sa sécurité - Actualités Sécu