WP | Themes
Pro Theme Design | Mimbo Pro WordPress Theme. Mimbo Pro is the theme that popularised magazine themes, making them more original, and better designed.
With awesome SEO and blazing speed Mimbo Pro is a theme that webmasters can get up and running in minutes. With a design by reknowned designer, Darren Hoyt, Mimbo Pro brings amazing design to a wide audience. By far the most popular design here at Pro Theme Design, Mimbo Pro includes a complete theme administration panel, to allow you to customise many elements of the design, without touching a line of code. StudioPress - Premium WordPress Themes. Press75.com | Exceptional WordPress Themes. ThemeForest. WordPress Theme Development Check List – PDF Version « WP TOY.
WordPress 3.0 Theme Development Links | WPLover. What Dev4Press thinks WordPress needs… This post at Dev4Press outlines what MillaN, its author, thinks would be a necessary addition to WordPress.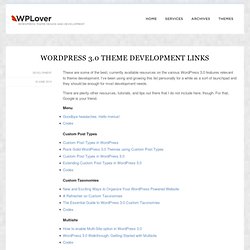 Based on the comments, it appears that a lot of people agree with this list. Some of the items mentioned can be achieved with plugins (e.g Tax Meta Class to add meta data to taxonomy items, Custom Post Types Relationships for, well, creating custom post type relationships), so expect there to be a bunch of debates about what should and shouldn't go to the core. Premium WordPress Themes and Design Blog | WPswitch. How to Create Your first WordPress Theme: Part 1 | Graphic and W.
WordPress is the most popular and the best (in my opinion) blogging platform, created by Automattic.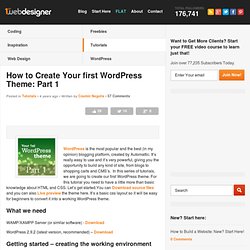 It's really easy to use and it's very powerful, giving you the opportunity to build any kind of site, from blogs to shopping carts and CMS's. In this series of tutorials, we are going to create our first WordPress theme. For this tutorial you need to have a little more than basic knowledge about HTML and CSS. Let's get started.You can Download source files and you can also Live preview the theme here. Pantheon: A Premium WordPress Theme | Premium. Today we're releasing a premium WordPress theme by Viva Themes for our premium members.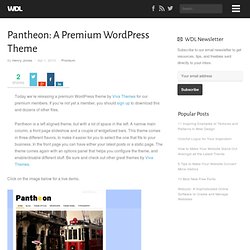 If you're not yet a member, you should sign up to download this and dozens of other files. Pantheon is a left aligned theme, but with a lot of space in the left. A narrow main column, a front page slideshow and a couple of widgetized bars. 30+ WordPress Themes powered by jQuery and Ajax. jQuery is a fast and excellent JavaScript library that can be used to creates flexibility on designs and interactivity on your WordPress themes and with Ajax you can reload a certain part of the website without reloading the whole page.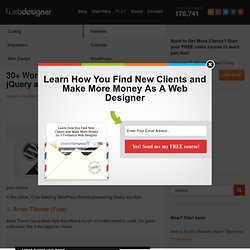 It promises to have a " write less, do more" functions. With a few line of codes, you will have a fantastic WordPress theme that will "wow" your visitors. In this article, I'll be featuring WordPress themes powered by jQuery and Ajax. Créez votre thème Wordpress de A à Z. Update du 5 Octobre 2011: les tutoriels ont beau datés de 2007, ils sont en cours de modifications pour y ajouter les fonctionnalités des dernières versions de WordPress.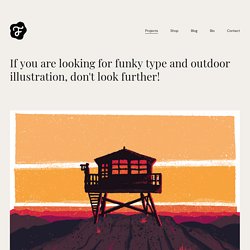 Quoi qu'il en soit, ils sont toujours d'actualité et ont été mis à jour plusieurs fois. Peut-être que vous aimeriez créer votre propre thème pour votre blog et que vous ne savez pas trop comment vous y prendre ?
---