Web Font
Technical Web Typography: Guidelines and Techniques - Smashing Magazine. Advertisement The Web is 95% typography, or so they say.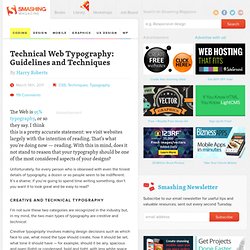 I think this is a pretty accurate statement: we visit websites largely with the intention of reading. The Font-Face Rule and Useful Web Font Tricks - Smashing Magazine. Advertisement The possibility of embedding any font you like into websites via @font-face is an additional stylistic device which promises to abolish the monotony of the usual system fonts.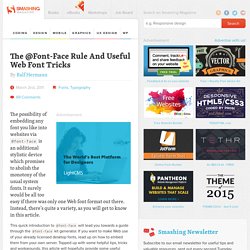 It surely would be all too easy if there was only one Web font format out there. Instead, there's quite a variety, as you will get to know in this article. 10 Great Google Font Combinations You Can Copy. The average man considers which flavor of Doritos will taste good with his Heineken.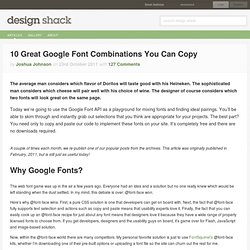 The sophisticated man considers which cheese will pair well with his choice of wine. The designer of course considers which two fonts will look great on the same page. Today we're going to use the Google Font API as a playground for mixing fonts and finding ideal pairings. You'll be able to skim through and instantly grab out selections that you think are appropriate for your projects. The best part? Font Directory. Font comparer. Download Hundreds of Free @font-face Fonts. This license can also be found at this permalink: ———————————————————————————————————— Fonthead Design End User License Agreement———————————————————————————————————— By downloading and/or installing Fonthead Design fonts ("software") you agree to the following user license terms: 1) Grant of License: The purchase of this software grants to you ("user") as licensee, the non-exclusive right to use and display the software at a single home or business location on a maximum of 5 CPUs.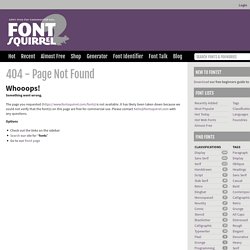 You also may give a copy of this software to any service bureau which you hire to output your film, paper or color proofs, provided that they do not use the font software for any purpose other than outputing your work. Visual Walkthrough of @font-face CSS Code. In my previous post on Quick and Easy CSS @font-face Code, I provide a choice set of CSS rules for embedding custom fonts into your web pages.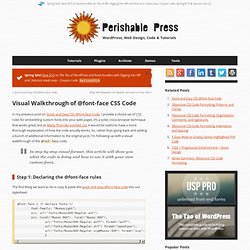 It's a solid, cross-browser technique that works great, but as Marty Thornley pointed out, it would be useful to have a more thorough explanation of how the code actually works. So, rather than going back and adding a bunch of additional information to the original post, I'm following up with a visual walkthrough of the @font-face code.
---