Domain - Hosting | Nom de dom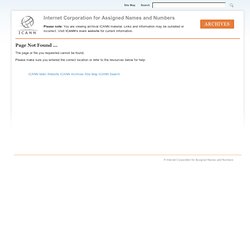 Site Map Search Internet Corporation for Assigned Names and Numbers Please note: You are viewing archival ICANN material. Links and information may be outdated or incorrect. Visit ICANN's main website for current information.
Top 10 UK Web Hosting Firms - Reviews of Best 10 Website Hosting Sites
Web Hosting, Business Host & Dedicated Servers, UKs No1 Cheap Web Host
"I am writing to tell you guys how satisfied I have been as a customer. Your customer service - especially technical support - is remarkably useful and friendly. Please keep up the good work and I'll keep spreading the word!
Web Hosting by FatCow - Get A Discount on Udderly Fantastic Web Hosting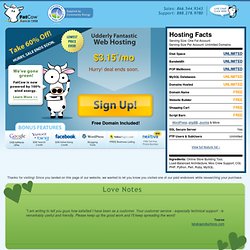 Communications Datxos :: Web Hébergement 2.95$ par mois !! Hebergement Web de Haute Qualité - Location Serveur Dédié - Revendeur Web - Nom de Domaine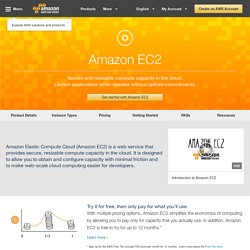 Amazon Elastic Compute Cloud (Amazon EC2) is a web service that provides resizable compute capacity in the cloud. It is designed to make web-scale computing easier for developers. Amazon EC2's simple web service interface allows you to obtain and configure capacity with minimal friction. It provides you with complete control of your computing resources and lets you run on Amazon's proven computing environment. Amazon EC2 reduces the time required to obtain and boot new server instances to minutes, allowing you to quickly scale capacity, both up and down, as your computing requirements change.