Domain - Hosting | Nom de dom
ICANN-Accredited Registrars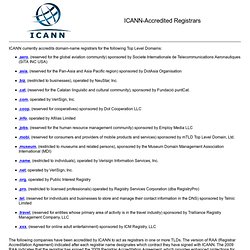 ICANN currently accredits domain-name registrars for the following Top Level Domains:
If you are looking to transfer your hosting to a new cheap web hosting provider, or if you are new to web hosting and need help on which web hosts to go for and who to avoid, our information is easy to follow, so you can be assured you choose the best web hosting company to suit your webhosting needs. Here at webhosting.co.uk we are dedicated to providing independent reviews and rankings of the top web hosts in the industry. Our team of expert webmasters takes into account these important factors when reviewing a web hosting provider like ease-of-use, uptime, support, cost and control panel. Let us find the best web hosting company for you, so you don't have to... Webmasters Choice
Top 10 UK Web Hosting Firms - Reviews of Best 10 Website Hosting Sites
Welcome to Pixel Internet, the UK's favourite web hosting company. Pixel Internet is expert in providing highly reliable, yet low cost website hosting throughout the UK. Catering for all varieties of cliental from enterprise level and small businesses, to individuals wanting to host their personal website. Find out why Pixel Internet are better than the rest! Pixel Internet's Windows and Linux hosting plans include unlimited bandwidth as standard, unlimited email accounts, free basic website builder software and free website resources including website templates, stock images, banners and logos.
Web Hosting, Business Host & Dedicated Servers, UKs No1 Cheap Web Host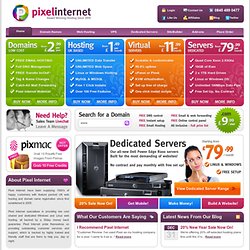 *Your domain name and technical support inclusive for 90EUR the first year then 120EUR following years. 40 GB disk space exclusively for your most important personal data as well as more than 60 GB disk space for your website. We provide you with a simple and effective program with a user manual, which allows you to implement daily backups of your personal folders automatically.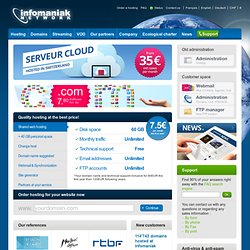 Hébergement - Ce qui se fait de mieux : 60 gigas d'espace disque, bande passante illimitée, PHP4, PHP5, MySQL 4 et 5, plus de 80'000 sites hébergés
Maven Hosting (Web hosting) : Classé #1 en france selon le top 10 hebergeurs
Unlimited GBs of Space FREE Site Builder Unlimited GBs of Transfer FREE Domain Name Registration Unlimited Domain Hosting FREE Instant Setup Unlimited Email Accounts Anytime Money-back Guarantee €2.25 per month* Introductory Offer Get started now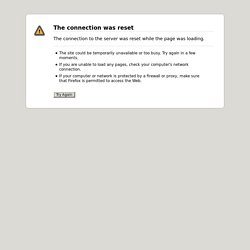 Web Hosting : Professional Web Hosting from Just Host
1&1 Hébergement - Accueil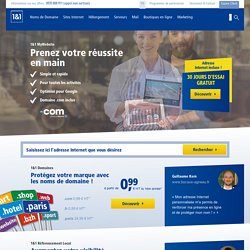 Internet est la clé du succès de votre entreprise et chez 1&1, nous souhaitons être à vos côtés. Experts en e-business et en hébergement Web, nous avons les solutions adaptées pour votre réussite sur la Toile ! Plus de 20 ans de succès ... ... grâce à plus de 5000 employés, qui participent au développement de solutions de haute qualité pour débutants et professionnels ; 5 centres de données ultraperformants en Europe et aux Etats-Unis ; une sécurité optimale garantie par le « Dual Hosting », hébergement géo-redondant de vos données dans 2 endroits distincts ; une disponibilité maximale assurée par un solide backbone d'envergure mondiale; et enfin, grâce à un service expert à votre écoute 7j/7, 24h/24. Plus de 10 millions de contrats clients et de nombreuses récompenses attestent de la fiabilité d'un des plus grands acteurs du e-business et de l'hébergement Web.
"I am writing to tell you guys how satisfied I have been as a customer. Your customer service - especially technical support - is remarkably useful and friendly. Please keep up the good work and I'll keep spreading the word!
Web Hosting by FatCow - Get A Discount on Udderly Fantastic Web Hosting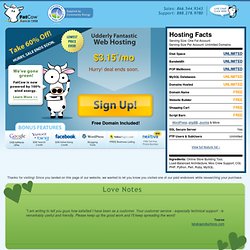 Communications Datxos :: Web Hébergement 2.95$ par mois !! Hebergement Web de Haute Qualité - Location Serveur Dédié - Revendeur Web - Nom de Domaine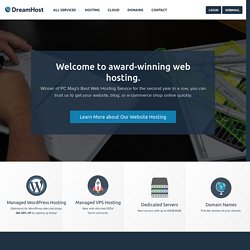 Free Hosting for Nonprofits Non-profit organizations have dedicated themselves to making the world a better place. In recognition of their noble sacrifice and altruistic efforts, DreamHost is happy to provide hosting services free of charge to these groups! This offer is limited to one shared hosting plan per nonprofit, and is only for US-based 501(c)(3) organizations. Domain registrations (other than any included with the plan) are not eligible for any discounts. Groups must be able to furnish DreamHost with an IRS-issued 501(c)(3) determination letter to qualify.
Web Hosting by DreamHost Web Hosting: Web Sites, Domain Registration, WordPress, Ruby on Rails, all on Debian Linux!
Elastic Compute Cloud (Amazon EC2)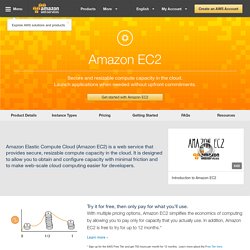 Amazon Elastic Compute Cloud (Amazon EC2) is a web service that provides resizable compute capacity in the cloud. It is designed to make web-scale computing easier for developers. Amazon EC2's simple web service interface allows you to obtain and configure capacity with minimal friction. It provides you with complete control of your computing resources and lets you run on Amazon's proven computing environment. Amazon EC2 reduces the time required to obtain and boot new server instances to minutes, allowing you to quickly scale capacity, both up and down, as your computing requirements change.
Hébergement mutualisé et serveurs dédiés - Online.net
Nom de domaine et hébergement cloud
Hébergement et Solutions Internet
Domain Names, Web Hosting and SSL Certificates - Go Daddy