Tom
Denver Free Days - Free Days. Have fun.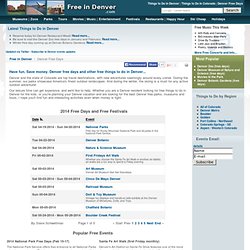 Save money. Denver free days and other free things to do in Denver... Denver Attractions - 2011 Free Admission at Denver Museums - Denver, CO. The SCFD (Scientific & Cultural Facilities District) in Denver sponsors free days at museums, zoos and botanic gardens across the Mile High City for 2011.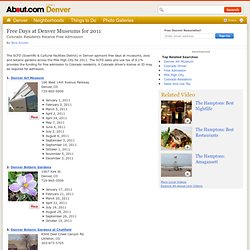 The SCFD sales and use tax of 0.1% provides the funding for free admission to Colorado residents. A Colorado driver's license or ID may be required for admission.
Volcano. Pending. Windows Vista and Windows Server 2008 service packs are not avai. This article contains information to help you diagnose why Windows Vista or Windows Server 2008 service packs are not being offered to you through Windows Update.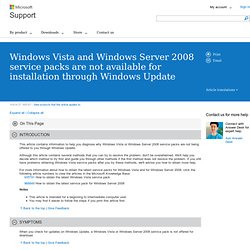 Although this article contains several methods that you can try to resolve the problem, don't be overwhelmed. We'll help you decide which method to try first and guide you through other methods if the first method does not resolve the problem. If you still have problems obtaining Windows Vista service packs after you try these methods, we'll advise you how to obtain more help. For more information about how to obtain the latest service packs for Windows Vista and for Windows Server 2008, click the following article numbers to view the articles in the Microsoft Knowledge Base:
Untitled. Shes Way Too Fat In This | Funny Pictures | Break.com Picture.
---