Complete Books about Gould
Ecstasy and Tragedy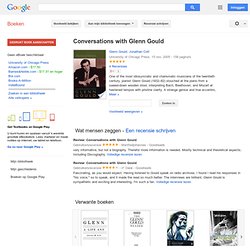 One of the most idiosyncratic and charismatic musicians of the twentieth century, pianist Glenn Gould (1932–82) slouched at the piano from a sawed-down wooden stool, interpreting Bach, Beethoven, and Mozart at hastened tempos with pristine clarity. A strange genius and true eccentric, Gould was renowned not only for his musical gifts but also for his erratic behavior: he often hummed aloud during concerts and appeared in unpressed tails, fingerless gloves, and fur coats. In 1964, at the height of his controversial career, he abandoned the stage completely to focus instead on recording and writing.
Conversations with Glenn Gould
Wondrous strange
Wondrous Strange: The Life and Art of Glenn GouldWondrous Strange: The Life and Art of Glenn Gould. By Kevin Bazzana. Toronto: mcclelland & Stewart, 2003. $39.99. 528 pp., ill. ISBN 0-7710-1101-6 ...www.yorku.ca/caml/en/review/32-1/gould.htm
Glenn Gould was Canada's greatest musician. From his home in Toronto, he rose to be a world-famous concert pianist and recording artist of the very top rank. Gould's eccentric attitudes and behaviours were well known, but the musical world was astonished when, in his mid-20s, he announced that he had permanently retired from the concert hall. Instead, Gould focused on the recording studio, on radio and television, and on exploring his fascination with the relation between audience and performer. Through wide and innovative use of electronic technologies, he was able to reach enormous audiences before his untimely death. Glenn Gould: Music & Mind focuses not on the details of Gould's life but on his ideas, offering unique insights into this remarkable Canadian and his life's work.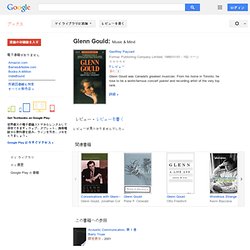 Music & Mind