Anaglyph
Anaglyph image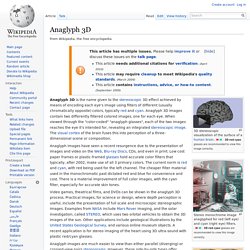 Stereo monochrome image anaglyphed for red (left eye) and cyan (right eye) filters. 3D red cyan glasses are recommended to view this image correctly. Stereogram source image for the anaglyph above.
anaglyph
Anaglyph (Red-Cyan 3D Pictures)
Mark Newbold's Stereo 3D Stuff
Color Stereo Anaglyph Galley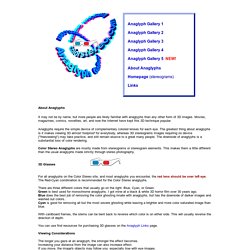 It may not be by name, but more people are likely familiar with anaglyphs than any other form of 3D images. Movies, magazines, comics, novelties, art, and now the Internet have kept this 3D technique popular. Anaglyphs require the simple device of complementary colored lenses for each eye.
Making Anaglyph Images in Adobe Photoshop In order to make an anaglyph you need two slightly off-set images. These can be produced using 3D software applications (Bryce, 3D Studio Max) or they can downloaded from a camera or pair of cameras.
Making Anaglyph Images in Adobe Photoshop
Anaglyphs - eyetricks.com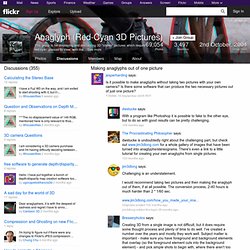 rakulbeth [deleted] says: As for a program that will automatically take one of your 2D pictures and convert everything to 3D for you, I'm afraid it doesn't exist yet.
Discussing Making anaglyphs out of one picture in Anaglyph (Red-
Automated Single-Picture conversion for Anaglyph (3D glasses) ex
> http://en.wikipedia.org/wiki/Anaglyph_image //EDIT:I foundBas-Relief Demo ( http://www.3dphotopro.com/software.html ) which is great and allows most things i need in the demo version :-) It just needs a depth map, which I draw manualy by setting the brush transparency for different layer or drawing closer areas brighter.Still, I am open to any other program suggestions! :-)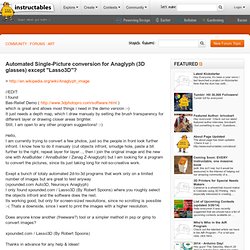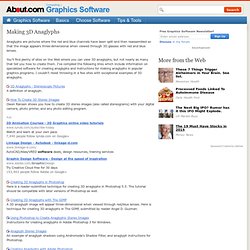 Making 3D Anaglyphs with Graphics Software
Anaglyphs are pictures where the red and blue channels have been split and then reassembled so that the image appears three-dimensional when viewed through 3D glasses with red and blue lenses. You'll find plenty of sites on the Web where you can view 3D anaglyphs, but not nearly as many that tell you how to create them. I've compiled the following links which include information on specialized software for creating anaglyphs and instructions for making anaglyphs in popular graphics programs. I couldn't resist throwing in a few sites with exceptional examples of 3D anaglyphs. 3D Anaglyphs - Stereoscopic PicturesA definition of anaglyph.
3D Software: Anaglyph Maker by Takashi Sekitani
Anaglyph software Free Download
3D image - 3D anaglyph - 3D software
Anaglyph Software Informer
anaglyph software
Pathfinder 3-D Anaglyph Stereo Image Archive
Tutorial: How to Make a 3D Anaglyph Image From a Single Photogra
Anaglyph and Pulfrich Colorcode Polarized Circular Polarized Zalman Filter Squares ChromaDepth Card Viewer Combo Pack Magenta Green Proview Imax No-D 3D Glasses
3D Glasses
Reel 3-D Enterprises, Inc.: 3-D Glasses - Anaglyph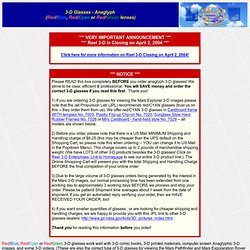 Please READ this box completely BEFORE you order anaglyph 3-D glasses! We strive to be clear, efficient & professional.
Making 3D anaglyph images - Photography - Non-Gaming - Forum | E
Anaglyph Workshop is a handy software dedicated to the design and generation of anaglyphs from any pictures you choose. · Create Anaglyphs From Single Pictures. · Create Anaglyphs From Dual Image Pairs.
Anaglyph Workshop 1.0.3 Download