iPad in Education
Teach with your ipad. Teaching with iPad Tools. An introductory guide to iPads for Teachers. I'm delivering some iPad training to a school tomorrow, so thought it might be useful to collate some of the links I've been putting together for the session.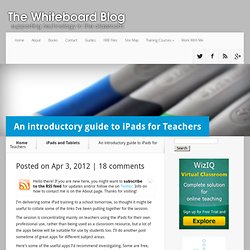 The session is concentrating mainly on teachers using the iPads for their own professional use, rather than being used as a classroom resource, but a lot of the apps below will be suitable for use by students too. I'll do another post sometime of great apps for different subject areas. Here's some of the useful apps I'd recommend investigating. Some are free, others the price of a pint or so. Teachers Guide on The Use of iPad in education. iPad is a cool versatile tool that has a huge potential in education.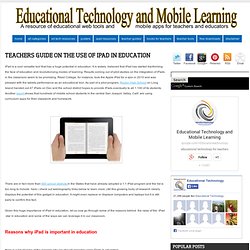 It is widely believed that iPad has started tranforming the face of education and revolutionizng modes of learning. Results coming out of pilot studies on the integration of iPads in the classroom seem to be promising. iPad Classroom. 39 Sites For Using iPads in the Classroom. Pages - Menu This Blog Linked From Here Sites to Follow Friday, October 7, 2011 39 Sites For Using iPads in the Classroom.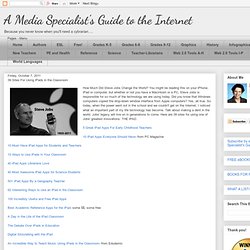 iPads in the Classroom. iPads in Schools. Apps for Professional Development. Twitter App (free) Twitter is one of the most active and beneficial social networks on the web.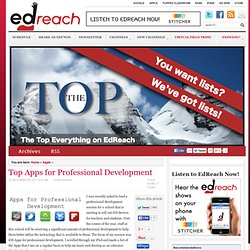 All educators would be wise to join the conversation. If you haven't used Twitter yet, I would recommend that you read these excellent blog posts: Google Voice (free) Text and call for free!
---