Crockpot Cooking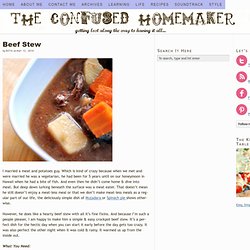 I mar­ried a meat and pota­toes guy. Which is kind of crazy because when we met and were mar­ried he was a veg­e­tar­ian, he had been for 5 years until on our hon­ey­moon in Hawaii when he had a bite of fish. And even then he didn't come home & dive into meat.
Crockpot Beef Stew Recipe
Crock Pot Potato Soup
(Updated with better photos and step-by-step instructions, February 2013.) One thing that can be frustrating about food blogging is that the greatest recipe in the world won't get much attention if the photo is bad, so I was happy to finally take new photos for this favorite slow cooker chili with lime and cilantro. The ultra flavorful chili includes a can of refried pinto beans as part of the base, which makes it extra thick, and I've been enjoying this the last few days with a dollop of low-fat sour cream on top. Lime and cilantro are two of my favorite ingredients, but if you're not a cilantro fan I'd replace it with thinly sliced green onions, and if you don't have a crockpot, just skip the step of reducing the beef stock, and you can make this in a regular pot on top of the stove. I hope lots of you will try this; it just might become your favorite easy chili recipe! Start with two finely chopped onions which get sauteed in olive oil until they are nicely browned.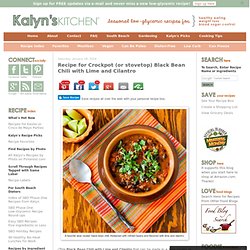 Recipe for Crockpot Black Bean Chili with Lime and Cilantro