Funny
T-Rex Trying... MzI8sPW.jpg (JPEG Image, 640 × 344 pixels) What Caffeine Does. Internet Users Demand Less Interactivity. SAN FRANCISCO—Tired of being bombarded with constant requests to share content on social media, bestow ratings, leave comments, and generally "join in on the discussion," the nation's Internet users demanded substantially less interactivity this week.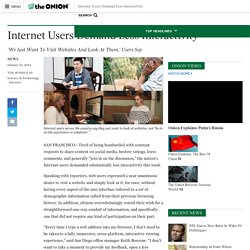 Speaking with reporters, web users expressed a near unanimous desire to visit a website and simply look at it, for once, without having every aspect of the user interface tailored to a set of demographic information culled from their previous browsing history. In addition, citizens overwhelmingly voiced their wish for a straightforward one-way conduit of information, and specifically one that did not require any kind of participation on their part. Spinal Tap - These Go To 11.
Hipsters. or, whatever. British humor. Art986-1. Avec ou sans drogue ? Timeline Photos. Obamadness. Manifestation de droite. Juanita Banana - Henri Salvador (1966) Cats. WTF. Message à caractère informatif. Felix Baumgartner va tenter la traversée de l'Île de France en solitaire et en RER B.
Plus rien n'arrête Felix Baumgartner.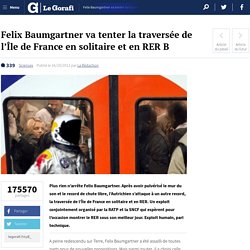 Après avoir pulvérisé le mur du son et le record de chute libre, l'Autrichien s'attaque à un autre record, la traversée de l'Île de France en solitaire et en RER. Un exploit conjointement organisé par la RATP et la SNCF qui espèrent pour l'occasion montrer le RER sous son meilleur jour. Exploit humain, pari technique. La course au record va-t-elle trop loin? #Chocolatine ou #PainAuChocolat ? Jean-Pierre Raffarin "Win the yes needs the no to win against the no"
Cessez d'intervenir comme un roquet. Clients From Hell. Labambatriste.com. What is love 8 bit.
Ads. Monty Python's Flying Circus: Mr. Hilter. Devos. Ça te fera de la pub. La SNCF vous fait votre pub NOM : ***PRENOM : ***MEL : *****@sncf.frCOMMENTAIRES : Bonjour, Je suis ****, je travail pour la SNCF, Intercités de la Région Nord Normandie.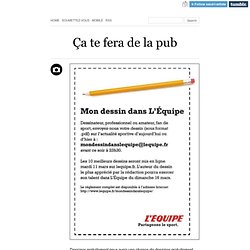 Trop souriant dans le métro, il finit en garde à vue | LeGorafi.fr. Une histoire bien singulière dont se souviendra sans doute pendant longtemps Jean Baptiste Rumelier.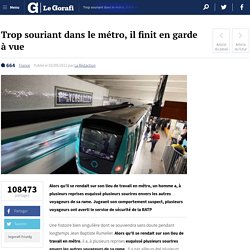 Alors qu'il se rendait sur son lieu de travail en métro, il a, à plusieurs reprises esquissé plusieurs sourires envers les autres voyageurs de sa rame. Il a par ailleurs été plusieurs fois aimable avec d'autres voyageurs, n'hésitant pas à laisser son siège à une personne âgée. Jugeant son comportement suspect, plusieurs voyageurs ont averti le service de sécurité de la RATP. Merci papa, merci maman! Srslyfuckbirds.jpg (500×282) About Gmail Paper. Is it free?
Yes. The cost of postage is offset with the help of relevant, targeted, unobtrusive advertisements, which will appear on the back of your Gmail Paper prints in red, bold, 36 pt Helvetica. No pop-ups, no flashy animations—these are physically impossible in the paper medium. How about attachments? All part of the deal. Very Bad Blagues - Quand on est de la police. Le braquage du siècle. Braquage raté en direct ! Sinister Woody. Dikkenek. Llanfairpwllgwyngyllgogerychwyrndrobwllllantysiliogogogoch. Un article de Wikipédia, l'encyclopédie libre.
Llanfairpwllgwyngyllgogerychwyrndrobwllllantysiliogogogoch ( Écouter) est un village de l'île d'Anglesey au pays de Galles. Toponymie[modifier | modifier le code] En gallois, Llanfairpwllgwyngyllgogerychwyrndrobwllllantysiliogogogoch signifie « l'église de sainte Marie dans le creux du noisetier blanc près d'un tourbillon rapide et l'église de saint Tysilio près de la grotte rouge ». Le nom est également transcrit comme : Mobile - He's so brave: Coming out to mum. Maîtrisons un escargot forcené, vidéo Maîtrisons un escargot forcené, vidéo Divertissement Humour - Archives vidéos Divertissement Humour. Communication financière. Mobile - The Dark Knight Rises. Second Cheapest Wine.
Hipster weight. Facebook. Omar et FredSAV super connard. Omar Sy arbre qui chante. Do websites need to look exactly the same in every browser? Top 10 Worst Business Decisions Ever. Over the centuries, there have been some crackers when it comes to bad business decisions.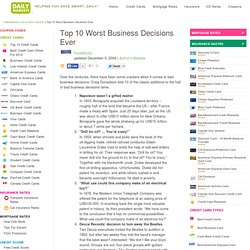 Craig Donaldson lists 10 of the classic additions to the hall of bad business decisions fame. Napoleon wasn't a gifted realtor In 1803, Bonaparte acquired the Louisiana territory – roughly half of the land that became the US – after France made a treaty with Spain. Just 20 days later, just as the US was about to offer US$10 million alone for New Orleans, Bonaparte gave the whole shebang up for US$15 million, or about 7 cents per hectare . Bye Bye Productivity: Google Just Brought 8 Trillion LEGO Blocks to Chrome. What would you say if I told you that I could put you in charge of the biggest LEGO set you have ever seen, giving you access to more than 8 trillion blocks.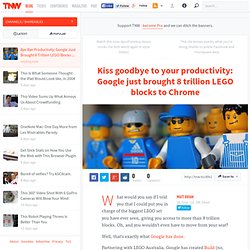 Oh, and you wouldn't even have to move from your seat? Well, that's exactly what Google has done. Partnering with LEGO Australia, Google has created Build (no, not the Microsoft event) – a new Chrome experiment that not only allows you to play with LEGO online, but asks you to choose a plot from an Australian map, placing your creation on a real Aussie landmark (or random street).
It also gives you the opportunity to save, share and show off your creations, either via email or on your Google+ account. Planche à découper ronde en verre Tomato Vinyl Joseph Joseph. Planche à découper ou plat de présentation en forme de vinyl 33 tours, en verre securit haute qualité.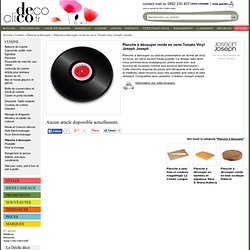 Ce design retro dont nous sommes tous nostalgiques, plaira aussi bien aux accrocs de musique comme aux accrocs des fourneaux ! Cette planche dispose de pieds anti dérapants et le verre est le matériau idéal reconnu pour ses qualités anti odeur et ultra résistant. Compatible lave vaisselle. Création Joseph Joseph. The Internet? It will never work! Bah, humbug...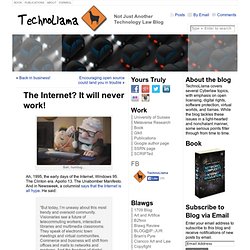 Ah, 1995, the early days of the Internet. Windows 95. The Clinton era. Apollo 13. The Unabomber Manifesto. Become a Programmer, Motherfucker. If you don't know how to code, then you can learn even if you think you can't. Thousands of people have learned programming from these fine books: Learn Python The Hard Way. Infographic Of The Day: Bill Gates Is A Better Superhero Than Batman. Bill Gates is no Steve Jobs. He's not a charismatic showman or messianic artist-technologist. He's something arguably better than that: He's an action hero. Noël Godin. Le plus gros kebab du monde: 1198 kg. Hipster Baby [PIC]
Eduard Khil dies; 'Mr. Trololo' of Internet fame was 77. We encouraged people to learn to program and just look at what happened. Hégésippe Simon. Il déguise l'achat d'un tableau par une fausse facture... de 256 hamburgers. Wall Photos. Greeks apologise with huge horse. Estimation. Où faire l'amour hors de chez soi ? Vos bons plans ! | Rue69. Sornettes - La Légion d'honneur, hochet de la République. Pinsanity! Un renard vole 38 boules de pétanque en deux mois dans le Gers. Télécomusical. 404: Page Not Found. Mauvaisgout.net. Guest Post from a CodeBoy: The Five Stages of Debugging — The Cranky Product Manager. What are all the Jeff Dean facts. Comics.
---