Design and stuff
Sketch | The designer's toolbox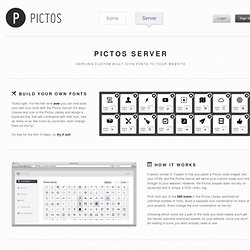 Pictos
See Examples Load Speed & File Size : Typically, you use image sprites to render icons on the web. If you have a hover state and an active (pressed) state for those icons, your sprite will be three times larger than it needs to be. By using a font instead you can load in the icons once and use CSS to change their look for hover and active states.
cork grips | Page 2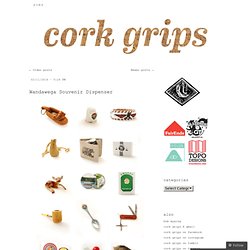 Holiday Vibes New Poler gear has been popping up on their site left and right with the holiday season setting in with more to come. New winter caps, improved one and two-man tents, and of course some awesome new packs. Today is the last day to get anything and everything for 20% off so get to it !
Make it good.
On UI Quality (The Little Things): Client-side Image Resizing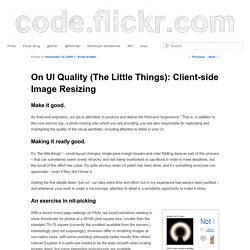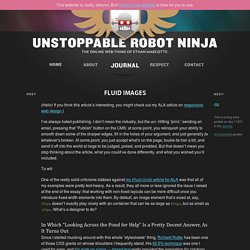 (Hello! If you think this article's interesting, you might check out my ALA article on responsive web design .) I've always hated publishing.
The English architect Christopher Wren once quipped that his chosen field "aims for Eternity," and there's something appealing about that formula: Unlike the web, which often feels like aiming for next week, architecture is a discipline very much defined by its permanence. A building's foundation defines its footprint, which defines its frame, which shapes the facade. Each phase of the architectural process is more immutable, more unchanging than the last.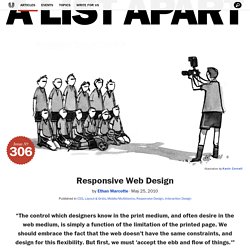 Early last year, I worked on the redesign of a rather content-heavy website .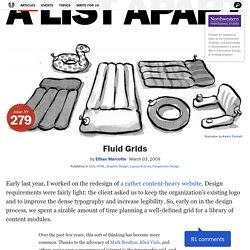 Important note, updated: Apple has released very limited information about the iPad at the Safari Dev Center. This article is written on the assumption that previous guidelines for Safari on iPhone OS apply to version 3.2 and the iPad. Step 0: Design for 980 pixels and do nothing The width of the iPad screen when held in portrait orientation is 768 pixels. Since many pages (like the NYT, which Jobs has demoed) are wider than that, the iPad scales down pages. The NYT website is automatically scaled down to fit on the iPad screen.
How to fit your website for the Apple iPad « x7 Labs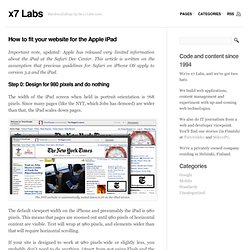 Dimensions of the iPhone Display
Detect retina displays with javascript
Written by Brian Cray on May 5th, 2011 I've been trying a way to detect a device's DPI for mobile design. While I haven't yet, I did at least find a way to detect whether the user is using a retina display.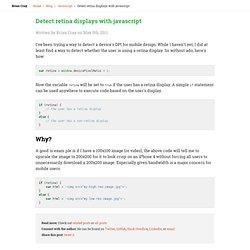 You can detect Apple's Retina display which is as of this post only used on the iPhone 4, and load a stylesheet specific for that display. Maybe using the higher resolution images etc. All you have to do is add the following to the header area of the web page assuming it has not changed in an iOS update since this post was published. Tags: Apple , Code , CSS , design , display , html , ios , iPhone , retina Categories: Apple , Code , CSS , iOS
Detect Apple's Retina display and load specific CSS stylesheet - [ UIBuzz.com ]
A Design Primer for Engineers
Design They just want to mail a picture of their cat A Design Primer for Engineers For a word that can so vastly change the fortunes of a company, it's worth noting that no generally accepted definition of the word design exists. This means when your boss stands up in front of the team at that all-hands and says, "We'll have a design-centered culture," there's a good chance he's saying nothing at all. But you keep hearing this word. More importantly, you hear the urgency behind the word.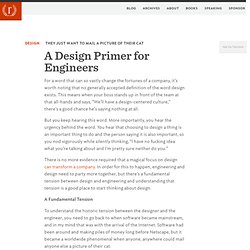 Merci la StartupDigest Reading List :) by loicag Jan 24