Développement Internet
Get flash to fully experience Pearltrees
Code up top for quick reference, details down below —we'll prepare typefaces for use on the web, go through @font-face CSS line-by-line, and get the experts' take on browser support. Updated May 2010 with new syntax from Paul Irish. The CSS: The HTML: <h2>This headline is typeset in <em>your typeface</em>.
The other day I was messing around with the theme for A Variety of Things * and wanted to use a custom font. I headed to Font Squirrel ** and downloaded myself a @font-face kit. For ease of use I decided to host an external CSS file on my server and just point to it in the theme. Chrome worked fine, then I tested Firefox: no go. A little Googling pointed out why: Firefox doesn't allow references to fonts hosted on another domain . Makes sense, from a security standpoint but makes my life harder right now.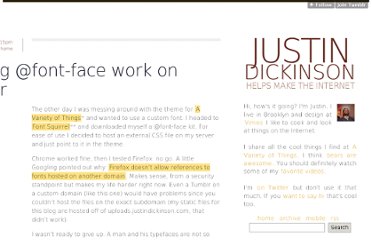 Today we will create a set of nice typography effects for big headlines using CSS3 and jQuery. There are many things we can do with CSS3 animations and transitions and we'll explore some of the possibilites. View demo Download source Today we will create a set of nice typography effects for big headlines using CSS3 and jQuery.
C'est quoi une ligature ? Avant de rentrer dans le vif du sujet, rappelons brièvement ce que sont les ligatures typographiques. Pour faire simple, une ligature typographique consiste à lier [1] deux glyphes pour en former un nouveau.
Par Bobby van der Sluis Un des atouts de la méthode traditionnelle de mise en page par tableaux est qu'elle vous permet de créer très facilement des designs fluides. Si vous souhaitez centrer verticalement du contenu, ou fixer un pied de page en bas de la fenêtre du navigateur, il vous suffit d'inclure un tableau principal doté d'une largeur de 100% et d'y positionner vos éléments. Avec les standards du web, ce n'est plus possible. La propriété height des tableaux est déclassée en XHTML , et les normes actuelles recommandent d'éviter l'utilisation de tableaux pour la mise en page.
Bonjour à tous, Je débute en CSS et je rencontre quelques problèmes au niveau de l'alignement de mes blocs J'ai un menu à gauche en "float:left", et un bloc à sa droite, le corps, contenant tout mon texte. Sous firefox, y'a pas de pro, mais sous IE6, mon corps se positionne en dessous du menu (diagonalement car je lui ai appliqué une marge). Voici mon code html : http://www.w3.org/TR/xhtml1/DTD/xhtml1-strict.dtd "> http://www.w3.org/1999/xhtml " xml:lang="fr" > Bienvenue aux Valades Qui sommes-nous ?