Primary Sources
Image & Sentiment IU Lilly Library Exhibition. In 1894, Gleeson White devoted an issue of his influential design journal, The Studio, to the examination of Christmas cards.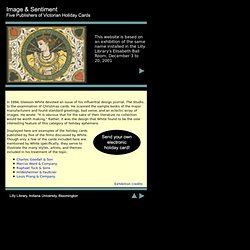 He scanned the sample books of the major manufacturers and found standard greetings, bad verse, and an eclectic array of images. He wrote: "It is obvious that for the sake of their literature no collection would be worth making. " Rather, it was the design that White found to be the sole interesting feature of this category of holiday ephemera. Ad Age Advertising Century: Top 10 Slogans of the Century. I'd prefer to be unknown.. that way they won't keep offering you work | Sunday Mirror Newspaper | Find Articles at BNET.
Not a Cough in a Carload: Images from the Tobacco Industry Campaign to Hide the Hazards of Smoking.
---