Pirates
Ο Rick Falkvinge μιλά στο 1ο μας Συνέδριο Πειρατική ενημέρωση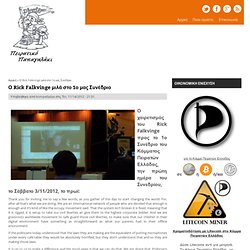 Ο χαιρετισμός του Rick Falkvinge προς το 1ο Συνέδριο του Κόμματος Πειρατών Ελλάδας, την πρώτη ημέρα του Συνεδρίου, το Σάββατο 3/11/2012, το πρωί: Thank you for inviting me to say a few words, as you gather of this day to start changing the world. For, after all that's what we are doing.
Long live the @piratepartyGR of #Greece #pirates #piraten
Signing of the official paper for being recognized as a political party @piratepartyGR #pirates #piraten #ppint
KOMMA ΠEIPATΩN: Πρόσκληση για το STOP #ACT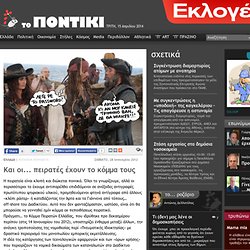 Και οι... πειρατές έχουν το κόμμα τους
Η πειρατεία είναι κλοπή και διώκεται ποινικά. Όλοι το γνωρίζουμε, αλλά οι περισσότεροι το έχουμε αντιπαρέλθει επιδιδόμενοι σε ανέξοδες αντιγραφές πρωτότυπου ψηφιακού υλικού, προμηθευόμενοι φτηνά αντίγραφα από άλλους «κλόπι ράιτερ» ή κατεβάζοντας την Άρτα και τα Γιάννενα από τόπους… off-shore του Διαδικτύου. Αυτό που δεν φανταζόμασταν, ωστόσο, είναι ότι θα μπορούσε να γεννηθεί ημίν κόμμα εκ πεποιθήσεως πειρατικό.
Social Media του Κόμματος Πειρατών - επίσημη σελίδα - piratiko.org
Κόμμα Πειρατών Ελλάδας - Pirate party of Greece »