Random Cool Sites
Nothing has blown my mind quite like this case.. Exclusive: Jack Johnson, Damian Marley Perform "Welcome to Jamrock" Jack Johnson is no stranger to collaborations, but he ups even himself on his upcoming album, Jack Johnson and Friends - Best of Kokua Festival (April 17, Brushfire Records).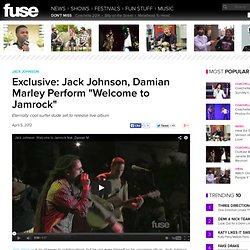 We still have a few weeks before the album comes out, but we've got an exclusive clip of Johnson performing Damian Marley's "Welcome to Jamrock" with the man himself above. The live album combines original Johnson tracks with covers and features a heavy hitter guest lineup including Willie Nelson, Ben Harper, Dave Matthews, Ziggy Marley, Taj Mahal and Eddie Vedder. REGENZEIT II by Field Rotation - thinking playlist.
Results for cannabis. SOPA Emergency IP list: | CodeBangers. So if these bastards in DC decide to ruin the internet, here's how to access your favorite sites in the event of a DNS takedown tumblr.com 174.121.194.34 wikipedia.org 208.80.152.201 # News bbc.co.uk 212.58.241.131 aljazeera.com 198.78.201.252 # Social media reddit.com 72.247.244.88 imgur.com 173.231.140.219 google.com 74.125.157.99 youtube.com 74.125.65.91 yahoo.com 98.137.149.56 hotmail.com 65.55.72.135 bing.com 65.55.175.254 digg.com 64.191.203.30 theonion.com 97.107.137.164 hush.com 65.39.178.43 gamespot.com 216.239.113.172 ign.com 69.10.25.46 cracked.com 98.124.248.77 sidereel.com 144.198.29.112 github.com 207.97.227.239 # Torrent sites thepiratebay.org 194.71.107.15 mininova.com 80.94.76.5 btjunkie.com 93.158.65.211 demonoid.com 62.149.24.66 demonoid.me 62.149.24.67.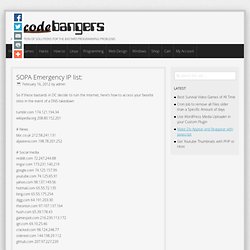 Breathingearth - CO2, birth & death rates by country, simulated real-time. Calm.com. What do you love?
---