Outils Mind Map
MindBerry. SimpleMind. EditionsFeature Matrix SimpleMind for iOS is a Mind Mapping tool that turns your iPad, iPhone or iPod Touch into a brainstorming, idea collection and thought structuring device.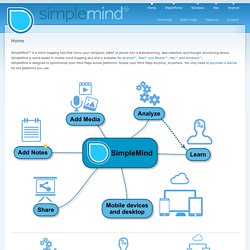 Editions SimpleMind iOS is available from the AppStore in three editions: SimpleMind+ (Free / Full) - an Universal App that comes as Free version with basic but powerful Mind Mapping features. After InApp Purchase you'll have full functionality with additional features to improve your productivity.SimpleMind iPhone (Full) - Full functionality - universal app for iPhone and iPad.SimpleMind iPad (Full) - Full functionality - universal app for iPhone and iPad.
MindMapping. Are you using mind mapping tools such as MindManager, FreeMind or XMind?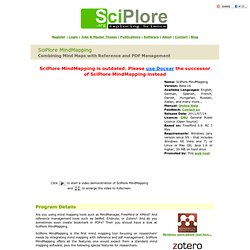 And reference management tools such as JabRef, Endnote, or Zotero? And do you sometimes even create bookmark in PDFs? iBluesky. With the launch of Apple's iTunes AppStore, the number of applications for the iPhone and iPod Touch have literally exploded.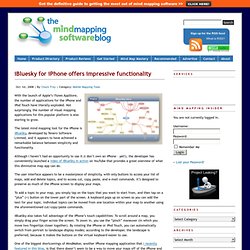 Not surprisingly, the number of visual mapping applications for this popular platform is also starting to grow. The latest mind mapping tool for the iPhone is iBlueSky, developed by Tenero Software Limited, and it appears to have achieved a remarkable balance between simplicity and functionality. Visual Understanding Environment. Creately.
---