Flash
Flash Video Accessibility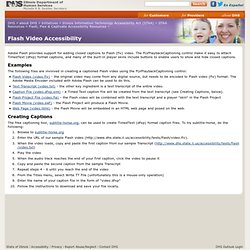 Adobe Flash provides support for adding closed captions to Flash (flv) video. The FLVPlaybackCaptioning control make it easy to attach TimedText (dfxp) format captions, and many of the built-in player skins include buttons to enable users to show and hide closed captions. Examples The following files are involved in creating a captioned Flash video using the FLVPlaybackCaptioning control:
Catalogue Flash Accessible - Comment Choisir - E-Accessibility Ppt..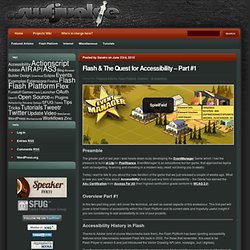 Flash & The Quest for Accessibility – Part #1 Preamble The greater part of last year i was heads-down-busy developing the EventManager Game which i had the pleasure to build at Liip for Postfinance . EventManager is an educational but fun game, that approaches topics such as budgeting, financing and investing in a modern way (read: not boring you to death) . Today i want to talk to you about the new iteration of the game that we just released a couple of weeks ago. What is new you ask?
Flash & The Quest for Accessibility – Part #1 | blog.swfjunkie.com
Accessibility in Flash bug and issue list | Niqui Merret
Flash And Accessibility
Accessibility and Usability of Flash for Users with Disabilities
Creating Accessible Flash Content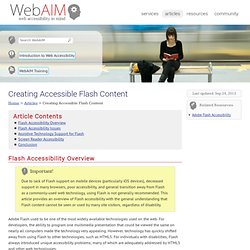 Flash Accessibility Overview Adobe Flash content can be viewed on nearly all computers. The Flash technology, in a general sense, may be one of the most widely available technologies used on the web. For developers, the ability to program one multimedia presentation that can be viewed the same on nearly all computers makes the technology very appealing. However, for individuals with disabilities, Flash can introduce unique accessibility problems.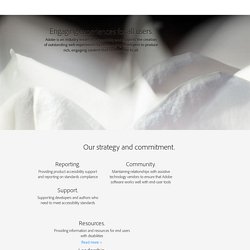 Engaging experiences for all users Adobe® is an industry leader in accessibility and supports the creation of outstanding web experiences by encouraging web developers to produce rich, engaging content that is accessible to all. Featured Preparing InDesign Files for Accessibility
Accessibility Resource Center