Tea
White Ayurvedic Chai Tea by Teavana. This is my first EVER teavana tea from my first EVER swap from oOTeaOo!!!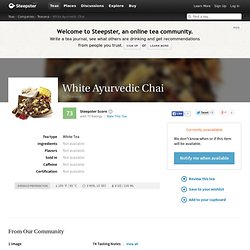 First swap note. Yay! Thank you for giving me all these neat teas I can't wait to try! Green Tea Super Antioxidant Tea by Yogi Tea. Again, a tea belonging to my daughter that she can't stand to drink!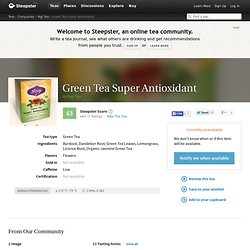 When she described what she hated about it – the texture of the tea on the swallow, the slippery texture that remains – I knew it was the licorice root that turned her off. But I like licorice root. I find it soothing and comforting. A couple of years ago I had a lot of dry throat problems that were keeping me up at night, and two throat soothing teas gave me a lot of relief. My only concern is the effect licorice root can have on blood pressure. Green Tea Super Antioxidant Tea by Yogi Tea. Twitter Directory and Search, Find Twitter Followers.
Gyokuro Imperial Tea by Teavana. Thanks to Raritea for a sample of this one!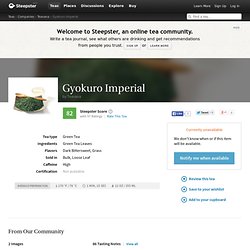 Unfortunately, although I knowingly wrote 1 tsp on the bag, I clearly put 1.5 into it, so this is not yet a sipdown :( Ahhh, this is tasty. Gyokuro Imperial Tea by Teavana. Gyokuro Imperial Tea by Teavana. Matcha Japanese Green Tea [New Version] Tea by Teavana. My girlfriend is sympathetic, texting me throughout the day.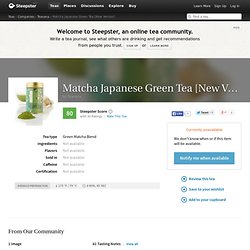 By the end of my work day I'm a bit grumpy, even irritable. My back still hurt, the boots I had worn had started to dig into one of my heels, now dead tired, and the six shots of espresso I had taken throughout the day to try to keep myself propped up had just added a strange bend to my reality which seemed to make things a bit further away than they really were. She's trying to be supportive, but she does it with "I'm sorry your back hurts,", "I'm sorry you're tired," and I know she's trying to be sympathetic, but "I'm sorry" comes off as an apology to me and it's a mild irritation, and in present mindset, it's a major irritation.
I have to keep myself from re-addressing this because it's appearing as a bigger issue than it actually is. Dragonwell Tea by Teavana. This was another gift from HarpLady, my big sis.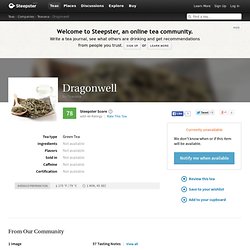 I love the name. It conjures up images of a well guarded by dragons or some such. Just the thing for the imagination of an aspiring fantasy writer like me. Vegan Green Tea Cupcakes. Dragonwell Tea by Teavana. Green Tea.
---