Programming
C++ Programming Style Guidelines. Version 4.9, January 2011 Geotechnical Software Services Copyright © 1996 - 2011 This document is available at.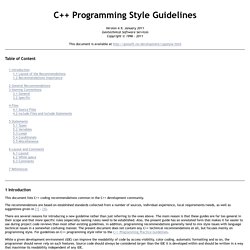 Common Lisp the Language, 2nd Edition. In this greatly expanded edition of the defacto standard, you'll learn about the nearly 200 changes already made since original publication - and find out about gray areas likely to be revised later.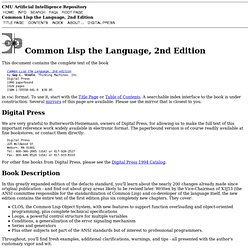 Written by the Vice-Chairman of X3J13 (the ANSI committee responsible for the standardization of Common Lisp) and co-developer of the language itself, the new edition contains the entire text of the first edition plus six completely new chapters. They cover: README file and the Digital Press catalog with any distributed electronic copies of Common Lisp the Language. Code Conventions for the Java Programming Language: Contents.
Paul Graham. Coding Standards. Table of Contents The GNU coding standards, last updated March 31, 2014.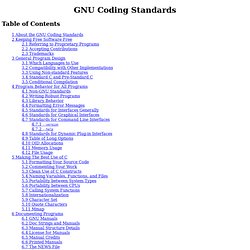 Copyright © 1992, 1993, 1994, 1995, 1996, 1997, 1998, 1999, 2000, 2001, 2002, 2003, 2004, 2005, 2006, 2007, 2008, 2009, 2010, 2011, 2012, 2013, 2014 Free Software Foundation, Inc. Permission is granted to copy, distribute and/or modify this document under the terms of the GNU Free Documentation License, Version 1.3 or any later version published by the Free Software Foundation; with no Invariant Sections, with no Front-Cover Texts, and with no Back-Cover Texts. Practical Common Lisp. This page, and the pages it links to, contain text of the Common Lisp book Practical Common Lisp published by Apress These pages now contain the final text as it appears in the book.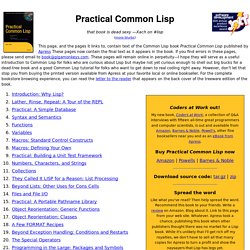 If you find errors in these pages, please send email to book@gigamonkeys.com. These pages will remain online in perpetuity—I hope they will serve as a useful introduction to Common Lisp for folks who are curious about Lisp but maybe not yet curious enough to shell out big bucks for a dead-tree book and a good Common Lisp tutorial for folks who want to get down to real coding right away. Top 50 Free Open Source Classes on Computer Science : Comtechtor. Computer science is an interesting field to go into.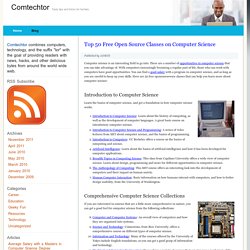 There are a number of opportunities in computer science that you can take advantage of. With computers increasingly becoming a regular part of life, those who can work with computers have good opportunities. Tutorial - Learn Python in 10 minutes. NOTE: If you would like some Python development done, my company, Stochastic Technologies, is available for consulting.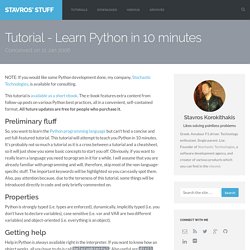 This tutorial is available as a short ebook. The e-book features extra content from follow-up posts on various Python best practices, all in a convenient, self-contained format. All future updates are free for people who purchase it. How to Think Like a Computer Scientist — How to Think Like a Computer Scientist: Learning with Python 3. Version date: October 2012 by Peter Wentworth, Jeffrey Elkner, Allen B.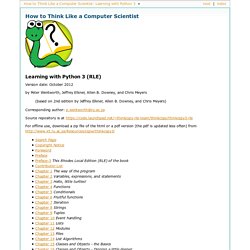 Downey, and Chris Meyers. Computer Science 61A - Lecture 1. How to be a Programmer: A Short, Comprehensive, and Personal Summary. Debugging is the cornerstone of being a programmer.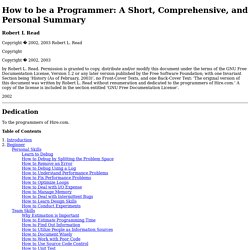 The first meaning of the verb to debug is to remove errors, but the meaning that really matters is to see into the execution of a program by examining it. A programmer that cannot debug effectively is blind. Idealists that think design, or analysis, or complexity theory, or whatnot, are more fundamental are not working programmers.
---