Programming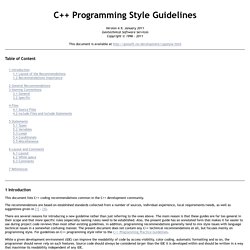 Version 4.9, January 2011
C++ Programming Style Guidelines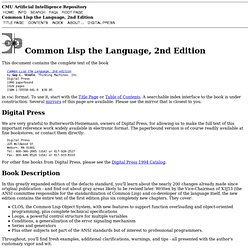 Common Lisp the Language, 2nd Edition
In this greatly expanded edition of the defacto standard, you'll learn about the nearly 200 changes already made since original publication - and find out about gray areas likely to be revised later.
Table of Contents
Coding Standards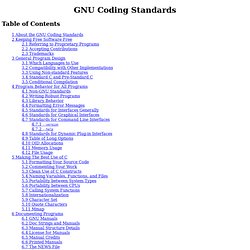 This page, and the pages it links to, contain text of the Common Lisp book Practical Common Lisp published by Apress These pages now contain the final text as it appears in the book. If you find errors in these pages, please send email to book@gigamonkeys.com. These pages will remain online in perpetuity—I hope they will serve as a useful introduction to Common Lisp for folks who are curious about Lisp but maybe not yet curious enough to shell out big bucks for a dead-tree book and a good Common Lisp tutorial for folks who want to get down to real coding right away.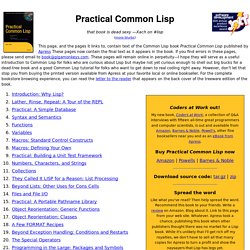 Computer science is an interesting field to go into. There are a number of opportunities in computer science that you can take advantage of. With computers increasingly becoming a regular part of life, those who can work with computers have good opportunities.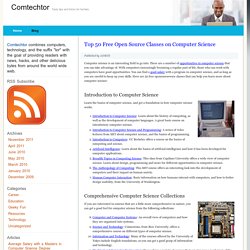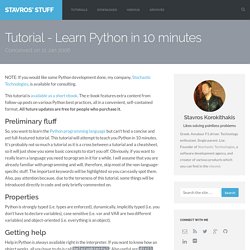 NOTE: If you would like some Python development done, my company, Stochastic Technologies, is available for consulting. This tutorial is available as a short ebook. The e-book features extra content from follow-up posts on various Python best practices, all in a convenient, self-contained format. All future updates are free for people who purchase it.
Version date: October 2012 by Peter Wentworth, Jeffrey Elkner, Allen B. Downey, and Chris Meyers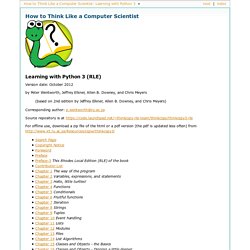 Computer Science 61A - Lecture 1
Debugging is the cornerstone of being a programmer.