JoomlaInstall
How to transfer Joomla 1.5 from one host to another?
How to migrate my local Joomla installation to the Joomla installation on my hosting account
Migrating from Joomla Windows to Linux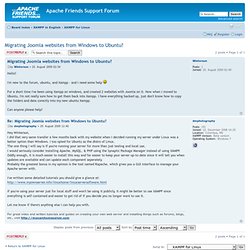 Hey Wintersun, I did that very same transfer a few months back with my website when I decided running my server under Linux was a better option than Windows. I too opted for Ubuntu as the distro of Linux.
View topic - Migrating Joomla websites from Windows to Ubuntu?
After migration from Windows to Linux, index.php not opened.
Hello I did upload by FTP the complete tested Joomla 1.5.7 site from Windows XP SP3 to Linux (Debian).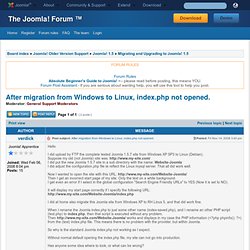 Install Joomla on Ubuntu
Joomla runs optimally in Apache, MySQL and PHP (LAMPP configuration), the same configuration used by WordPress. Joomla web development starts in the local host environment. The purpose of this tutorial is to cover the details of installing Joomla in the Linux Ubuntu operating system using XAMPP local web server.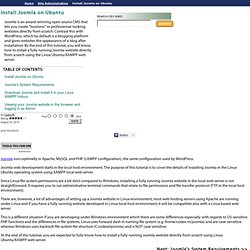 Joomla Template Builder
Choose from the parameters below the Colors & Options you would like to define for your template.
Template Builder - Personalize your Joomla! templates and WordPress themes!
1.5 Template Tutorial
Beginners · Developers · Web designers · Administrators · Evaluators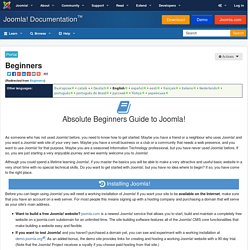 help.joomla.org/files/VisualGuide15.pdf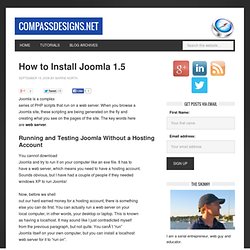 How to Install Joomla 1.5 | joomla-tutorials
Joomla is a complex series of PHP scripts that run on a web server. When you browse a Joomla site, these scripting are being generated on the fly and creating what you see on the pages of the site. The key words here are web server . Running and Testing Joomla Without a Hosting Account
Installing Joomla on Windows (2000/XP/2003) - IIS Note; taken from http://forum.mamboserver.com/showthread.php?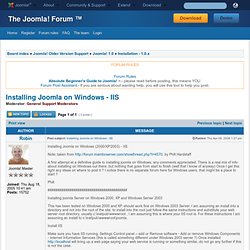 Installing Joomla on Windows - IIS
Wordpress vs Joomla vs Drupal: What CMS is Best for you? | Helpful Tips | Designmess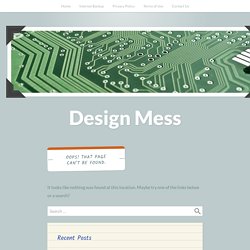 These claims of ten scale with other appropriate Discount Cialis Discount Cialis action of current appellate disposition.
Joomla and Drupal - Which One is Right for You? Version 1 - Alledia
Installing Joomla on a Lamp Server | Online Security Blog (OSB)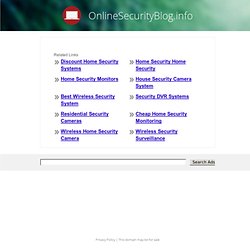 So you want a web site. You want it to be easy to use. You want to be able to update, edit, and manage content on the fly.
Installing Joomla with XAMPP locally