lmcsobral
Luis Manuel C. Sobral
O que dizer de mim? Gosto de ar livre, de calcadão de praia, de esplanada, de beira-mar ou beira-rio, ar puro, bons momentos, bons amigos mas acima de tudo, uma boa companhia.....
Get flash to fully experience Pearltrees
Next year is fast approaching! If you want access to ALL the trends, insights and innovations that need to be on your radar in the next 12-18 months, check out our new 2013 Premium Service , including the 2013 Trend Report (released on Tuesday 20 November)! MORE » FedEx: Absolutely, Positively, Unacceptable
Smartphone-toting consumers are embracing a world in which they can find out about (if not buy) almost anything they encounter out in the real world, anytime. Learn from the brands already capitalizing on this trend, then get going! We flagged POINT & KNOW as one of our 12 Crucial Consumer Trends for 2012 , but now here's a full Trend Briefing showing how POINT-KNOW-BUY will reshape consumers' info-expectations, search behavior and purchasing patterns. Now, that consumers crave information is nothing new. Information and knowledge give consumers power, control and certainty (or at least the illusion thereof).
Introduction | This year, much as in previous years, some brands may be staring into the abyss, while others will do exuberantly well. And while we can't offer any help to defaulting nations or bankrupt companies, we do believe that there are more opportunities than ever for creative brands and entrepreneurs to deliver on changing consumer needs . From Canada to Korea. Hence this overview of 12 must-know consumer trends (in random order ) for you to run with in the next 12 months. Onwards and upwards: In 2012, department stores, airlines, hotels, theme parks, museums, if not entire cities and nations around the world will roll out the red carpet for the new emperors, showering Chinese visitors and customers with tailored services and perks, and in general, lavish attention and respect.
November 2011 | As deal hunting has become an integral part of daily life for millions of consumers, it's time to dive into the drivers behind this trend and its long term impact on all B2C brands. And yes, countless examples are included ;-) Source: thinkcvox
October 2011 | Savvy consumers have never had more opportunities to make the most of their past and future possessions. Food for thought as you gear up for the busy times ahead. Looking at the myriad ways in which the consumer arena has moved beyond the 'old' model of consumption (brands produce, consumers buy), has been a regular feature in past Trend Briefings from GENERATION C(ASH) and C(ONTENT) , to SELLSUMERS and OWNER-LESS . Now, here's yet another twist on consumers making the most of their assets and possessions: RECOMMERCE | It's never been easier for consumers to *.
September 2011 | No matter what consumer-driven industry you're in, the latest developments in retail and shopping need to be on your radar. After all, retail is about that very crucial moment that consumers actually PURCHASE your goods and services in person. If that isn't worth half an hour of your time, we don't know what is ;-)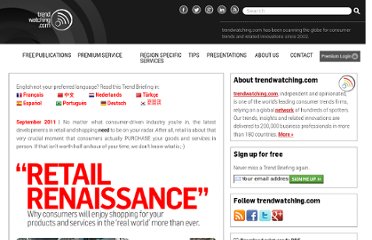 August 2011 | Instead of bringing you yet another Big New Trend, we thought we'd make your life (somewhat) easier with executive summaries of all of 2011's Trend Briefings. So, refresh yourself with the theory (CITYSUMERS! MADE FOR CHINA! THE F-FACTOR!), scan the many examples, and get ready for a breathless remainder of 2011. Introduction | We're past mid-year, and 2011 has so far proven to be as hectic, turbulent, threatening and promising as expected.
July 2011 | Each year around this time, we bring you a Trend Briefing that is a bit more lighthearted than usual, focusing almost exclusively on the endless and exciting innovations that are popping up all over the world. Welcome to INNOVATION EXTRAVAGANZA ;-) Innovation is the only way to survive in an ever more global, competitive business arena. By innovation we mean anything that will get consumers spending, and preferably the kind of spending that involves your products, services and experiences.