Construction
3 April 2012Last updated at 05:10 ET By Mike Wooldridge BBC News, Nicaragua Bamboo is being hailed as a new super material, with uses ranging from textiles to construction. It also has the potential to absorb large amounts of carbon dioxide, the biggest greenhouse gas, and provide some of the world's poorest people with cash.
Booming bamboo: The next super-material?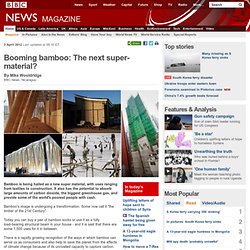 "La Maison du Bon Sens®"
Accueil | la maison ronde en bois qui tourne avec le soleil. |
Attend one of our information sessions to discover, understand and adopt the BONE Structure® system. + Register Today Cost: free.Duration: approximately 2.5 hours. Discuss your requirements, needs and concerns with our architectural team.What type of project do you have in mind? A Turnkey Project? An Auto-Construction Project?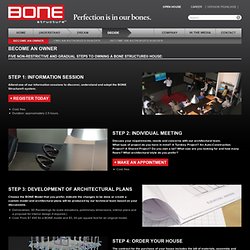 BONE Structure™ - Because perfection is in our bones.
Drywall Placo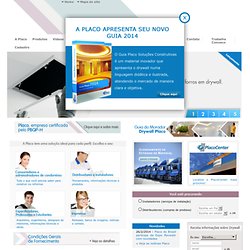 Aplicação em Javascript, essa função chama o flash do topo Localize o PlacoCenter mais próximo! Instaladores (serviços de instalação)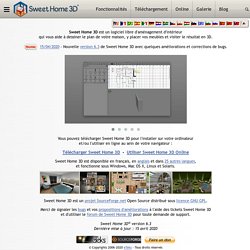 Sweet Home 3D est un logiciel libre d'aménagement d'intérieur qui vous aide à dessiner le plan de votre maison, y placer vos meubles et visiter le résultat en 3D. (cliquez sur l'image pour la visualiser en plus grand) Vous pouvez télécharger Sweet Home 3D pour l'installer sur votre ordinateur et/ou l'utiliser en ligne au sein de votre navigateur : Télécharger Sweet Home 3D - Utiliser Sweet Home 3D Online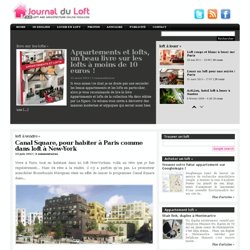 Villa d'architecte style années 30 à Chatillon Située à Châtillon, dans les Hauts-de-Seine (92), l'architecture de cette villa avec un toit plat s'inspire du style des années 30 et en particulier des maisons dessinées par Mallet Stevens ou Le Corbusier. Sur 3 niveaux, elle développe une surface habitable de 170 mètres carrés... Loft dans une ancienne usine à Asnieres sur Seine Habiter dans une ancienne usine réhabilitée en magnifiques lofts, tel est le rêve dont pourront profiter les heureux propriétaires d'un de ces 6 lofts situés à Asnières-sur-Seine.