Common Core
CCSD Wiki-Teacher. Classroom Support Toolbox.
Ccss rubrics
Eleventh & Twelfth Grade ELA. Eleventh & Twelfth Grade ELA How to use your grade-level documents: Cover Sheet from Regional Curriculum Document --The primary use of this document is to help determine the number and complexity of texts selected throughout the year for each module.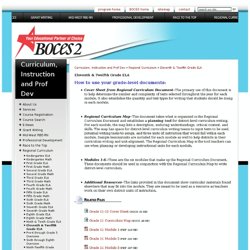 It also establishes the quantity and text types for writing that students should be doing in each module. Regional Curriculum Map --This document takes what is organized in the Regional Curriculum Document and establishes a planning tool for district-level curriculum writing.
General. Speaking and Listening. Common Core "I Can" Statements (Updated 5/30) « Turn On Your Brain. My I Can Statements for 9-10th grades.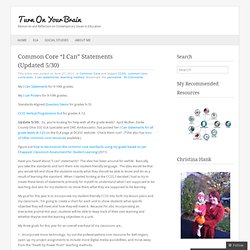 My I can Posters for 9-10th grades. Standards-Aligned Question Stems for grades 9-10. CCSS Vertical Progressions ELA for grades K-12. Update 5/30: So, you're looking for help with all the grade levels? April Wulber, Darke County Ohio ESC ELA Specialist and ORC Ambassador, has posted her I Can Statements for all grade levels (K-12!) Mapping Documents: DarkeNet. Common Core for the Holidays. MagellanTech4U - Core Essentials Online Resources. Online Resources for Common Core and North Carolina Essential StandardsNC Curriculum and Standard Course of Study Webpage merged to provide links all in one locationNC DPI Wiki Central Collection of valuable resources for NC Educators Links to North Carolina Common Core and Essential StandardsInstructional Support Tools for the NC Essential Standards Common Core Support ToolsStandards for Mathematical PracticeShifts in ELA and MathematicsLearnNC Resources linked to Common Core and Essential Standards Social Studies:DPI K-12 Social Studies Wiki Information and resourcesSocial Studies at NCWise OwlSocial Studies Learning Activity types: From College of William and Mary: 44 identified types of social studies learning activities.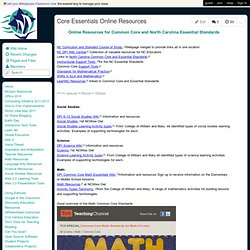 Examples of supporting technologies for each.Science:DPI Science Wiki Information and resourcesScience at NCWise OwlScience Learning Activity types: From College of William and Mary:40 identified types of science learning activities.
TCRWP - Teachers College Reading & Writing Project. Lesson planning. Writing. English Language Arts. The State Board of Education has adopted the Common Core State Standards in English language arts as part of Ohio's New Learning Standards for academic learning.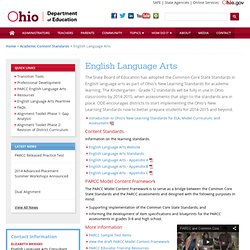 The Kindergarten - Grade 12 standards will be fully in use in Ohio classrooms by 2014-2015, when assessments that align to the standards are in place. ODE encourages districts to start implementing the Ohio's New Learning Standards now to better prepare students for 2014-2015 and beyond. Introduction to Ohio's New Learning Standards for ELA, Model Curriculum, and Assessment Content Standards Information on the learning standards.
Common Core Curriculum Maps | English Language Arts. §. Wondering About Common Core and Complex Text? - Common Core State Standards TOOLBOX. "A lot of reading skills students can apply with a simple text, but can't do so much with a challenging text.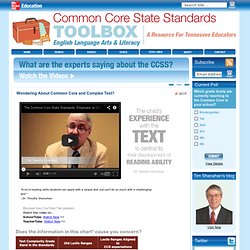 "- Dr. Timothy Shanahan Blocked from YouTube? No problem.
---