Webware
..:: Welcome to Eyecon ::..
Find a movie - HelloMovies
Spezify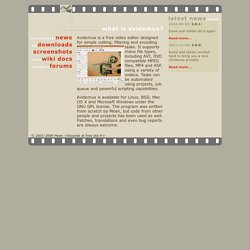 Avidemux is a free video editor designed for simple cutting, filtering and encoding tasks. It supports many file types, including AVI, DVD compatible MPEG files, MP4 and ASF, using a variety of codecs. Tasks can be automated using projects, job queue and powerful scripting capabilities.
VHS to DVD, Home Movies to DVD, Video to DVD, Film to DVD - iMem
Video editing could be very money consuming due to its requirement for large hard-disk storage, high computer performance and expensive video editing software. Because of all of these, it makes nearly impossible for end users like us (or me at least) to afford the fun of video editing. At the point this article is created, Adobe After Effect CS3 still cost about USD999 per copy while Adobe Premiere Pro CS3 costs about USD799 per copy.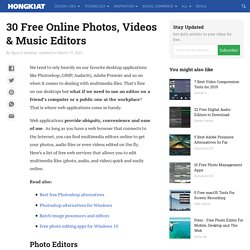 GTD = Get Things Done (Online Productivity Tools Get Real)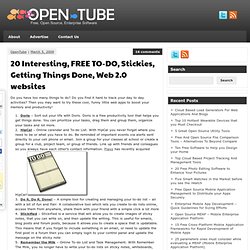 20 Interesting, FREE TO-DO, Stickies, Getting Things Done, Web 2
Do you have too many things to do?
Tour
Free web-clipping tool Snipd, one of the 10 up-and-coming products that intrigued us at this year's start-up conferences, has opened its doors to public sign-ups. The service works through a bookmarklet that puts mouse-over clipping icons on text, images, or embedded Flash, and stores all the content on a Tumblr -style page, though you can change the privacy settings for all or individual items. You also get RSS feeds for your public content, and text fiends may love that Snipd keeps the formatting on any copy you grab.
Snipd Compiles Web Content from Any Browser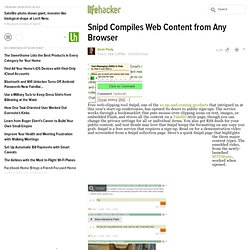 Getting Started with Docs
Microsoft Office Web Apps : Welcome to the Office Web Apps Blog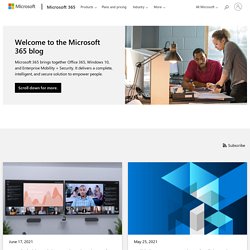 Thanks, this is a nice blog.
Scenios: Home