Tech Support Notes
Printing Directory Listings by Mitch Tulloch , author of Windows Server Hacks 01/04/2005 "How can I print thee? Let me count the ways...." Liz Browning would probably have written something like that in her blog if she lived today. Imagine her writing poetry on her laptop and saving it in a folder named , when suddenly she gets an email from her publisher saying he needs the titles of all the poems she's written so far.
Printing Directory Listings
How to Clear the Windows Paging File at Shutdown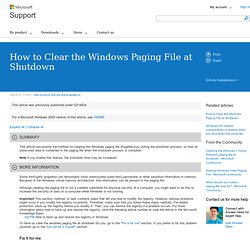 This article documents the method for clearing the Windows paging file (Pagefile.sys) during the shutdown process, so that no unsecured data is contained in the paging file when the shutdown process is complete. Note If you enable this feature, the shutdown time may be increased. Some third-party programs can temporarily store unencrypted (plain-text) passwords or other sensitive information in memory.
To view/add comments, you must enable JavaScript in your browser. Virtual memory allows the system to use hard disk space to store information normally stored in RAM. Windows XP manages virtual memory by using a paging file. You specify the minimum and maximum size of this file. If the size is different from the default in Windows XP, applications may return errors.
Set the virtual memory paging file to the default size (Windows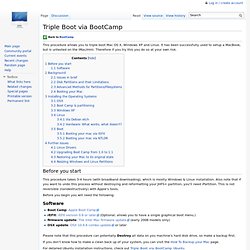 From OnMac.net Wiki Back to BootCamp This procedure allows you to triple boot Mac OS X, Windows XP and Linux.
Triple Boot via BootCamp - OnMac.net Wiki
Access to premium HD on computers has eluded most for way to long, so as soon as we heard that it was finally possible for anyone to add a CableCARD tuner to just about any Media Center, we just knew we had to try it for ourselves, and more importantly, share with you exactly how to do it. This doesn't really require any hacking, or anything illegal for that matter -- we're not lawyers -- but it isn't cheap. The internal version of the ATI Digital Cable Tuner pictured above can be found new on eBay for about $195, or new from PC vendors like Cannon PC for just under $300. If that doesn't seem like a bad deal to you and you already have an HTPC up to the challenge, then you should join us on our journey to HD bliss by clicking through. How To install a CableCARD tuner on any computer See all photos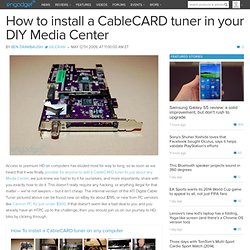 How to install a CableCARD tuner in your DIY Media Center -- Eng
Some things to note: I did this with a Linksys WRT54G-TM, which is just a T-Mobile branded version of the Linksys WRT54G (for the @home service). I did not have to really do anything special to get it to work (though I'm not using the bridging feature), so the setup doesn't have require much configuration. I will note however that I am not able to stream to more than one set of speakers at once. It causes an "unknown error -15000" which I cannot resolve currently.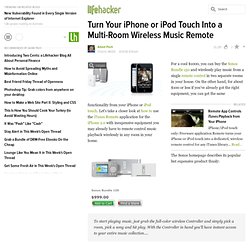 Turn Your iPhone or iPod Touch Into a Multi-Room Wireless Music
Web Tools, Web Applications
This tutorial will guide you through the steps to converting an existing video file to a .wmv (Windows Media Video) to play on your Windows Mobile device. First things first – download Windows Media Encoder from Microsoft. It's free.
How to convert files to Windows Media Video (.wmv) to play on yo
PURCHASE First thing first, we need a burner. I personally chose an LG GGW-H20L because it has HD DVD Read support, Lightscribe, Blu Ray Burning, and regular DVD burning. I still have a fairly large HD DVD collection along with my Blu Ray's, so I wanted a DVD Drive as a backup, besides, it was a little cheaper than the new version that did not have the HD DVD support.
Blu-ray with Final Cut Pro, Compressor and an Encore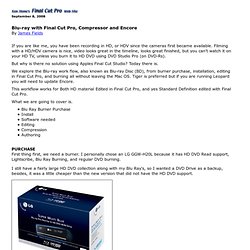 Innounp – The Inno Setup Unpacker | Portable USB Pen Drive Appli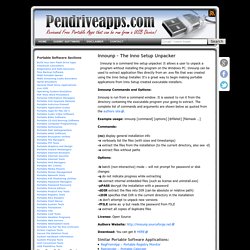 Innounp is a command line setup unpacker. It allows a user to unpack a program without installing the program on the Windows PC. Innounp can be used to extract application files directly from an .exe file that was created using the Inno Setup Installer. It's a great way to begin making portable applications from Inno Setup created executable installers. Innounp Commands and Options:
Compose New Emails Quickly from Firefox
Usbuntu Live Creator Makes Bootable Linux USB Drives
DIY home surveillance with a Webcam | Web Crawler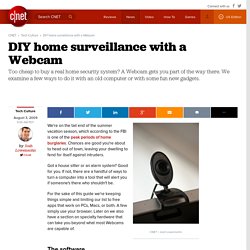 We're on the tail end of the summer vacation season, which according to the FBI is one of the peak periods of home burglaries. Chances are good you're about to head out of town, leaving your dwelling to fend for itself against intruders. Got a house sitter or an alarm system? Good for you. If not, there are a handful of ways to turn a computer into a tool that will alert you if someone's there who shouldn't be.
AVCHD INFORMATION WEB SITE
"(the) iPad optimized version really takes the portable TV viewing experience to another level. I am very happy with EyeTV and recommend it with no reservations. Sanjiv Sathiah, Electronista.com "EyeTV made it incredibly simple to watch and record on my Mac, and to send that content to my iPhone when I'm not near the office." Steven Sande, The Unofficial Apple Weblog (TUAW.com)
Mozilla Firefox
Digital closed captioning (line 21), closed caption insertion, l
PixelTools products can insert and extract a wide variety of closed captioning formats into and out of an MPEG stream. Our products can also add captioning during MPEG encoding and instant analysis of any MPEG streams. Currently supported formats include CEA-708, CEA-608, SCTE20, SCTE21, ATSC, DVD, and Analog. The tools include support for CC1 through CC4. The closed captioning source can be standard closed captioning files (such as .SCC or .CAP), the actual closed captioning text strings along with their associated time code, or formatted user data to support a custom captioning format. Our tools can convert from one caption format to another, optionally removing the existing captioning, in an existing MPEG stream without re-encoding.
_captionwrap.pdf (application/pdf Object)
Using QuickTime Pro to Add a Text Track (Captions) to QuickTime
If you have Macintosh OS X you can use Macaw Track Manager to add captions to a QuickTime video. The directions below show how to add the track to a video without Macaw Track Manager, using QuickTime Pro (Macintosh or Windows). Macaw saves a text file with time stamps.
Podcast Captioning - CaptionSync Automated Closed Captioning and
Web-Anywhere Applications The advent of the Internet has changed the way we view information, and makes it also possible to determine when we view it. Captioning plays a big part in making your material effective. Giving the viewer the option to mute audio and read along with the podcast makes the material more convenient to use, and more often. Regular viewers can search by keyword to pinpoint a place in the material they want to access.
All Tech Considered
Policy The data breaches at Target and Neiman Marcus raised questions over how quickly companies are required to disclose that customer information was hacked. The rules around when a retailer is required to tell you that your data got into the hands of fraudsters vary state by state. Science
The Future is 64 bit for Premiere Pro and After Effects - Steve
Adobe After Effects CS4 * Improve performance
The Beginner's 10-Minute Guide to Setting Up Ubuntu
firefox_fangirl: Replace OpenOffice.org With The Zoho Webservice