Eco World Connect
Hybrid2 public bike concept promises to help power city buses --
Hybrid bikes are one thing, but designer Chiyi Chen looks to have something far grander in mind for his Hybrid2 bike concept, which he says could one day help power fleets of city buses. To do that, the hybrid part of the bike (a regenerative braking system) wouldn't be used to help power the bike itself at all, but would instead store the energy in an ultracapacitor that'd then feed the energy back into the grid when its parked at a special bike stand, which would in turn be used to help charge the hybrid electric buses. Not one to overlook an ingenious little detail, Chen has also devised a special card RFID card that would not only be used to unlock the bike, but keep track of the energy that each rider generates -- build up enough credits and you can ride the bus for free. Intrigued?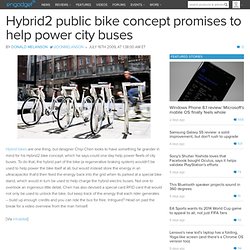 HacDC | DC's Hacker Space
Read the Report and Comment
Read Online | Executive Summary | Download PDFOrder Copies | Download for Kindle | En Español Overview The time has come for new thinking and aggressive action to ensure the information opportunities of America's people, the information health of its communities, and the information vitality of our democracy. Information technology is changing our lives in ways that we cannot easily foresee. Critical intermediating practices—journalism perhaps most obviously—are facing challenges of economics, organization, and values. As dramatic as the impacts have been already, they are just beginning.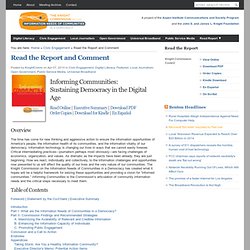 One Laptop per Child (OLPC), a low-cost, connected laptop for th
America: A Portfolio of Ideas — presented by SPDR ETFs