WEB DESIGN
Interactive system Network design, Interactive computer wallpapers, Multimedia, Animation Software Animated Desktop Wallpaper. Title:Interactive system Network designdescription: Orbiting Networks is an interactive system of enlightened nodes.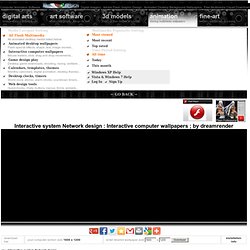 The enlightened node is a Levitated Flash MX object allowed to both connect and communicate with other nodes. Click anywhere above to create a new node. Holding the button down creates larger nodes with increased orbiting ranges. Use the vertical position of the mouse to control the speed and direction of the orbits. Fundamentally, this system can be reduced to a single object, the node. Graphic/Web Design. WWWASTE. Information about colors, etc. Trends. Shuffle. The 15 Best WordPress Plugins to Use in 2011.
One of the reasons that I'm so madly in love with WordPress is the thousands of plugins available.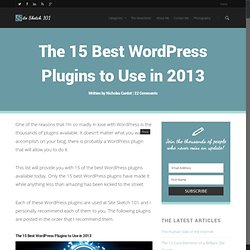 It doesn't matter what you want to accomplish on your blog, there is probably a WordPress plugin that will allow you to do it. This list will provide you with 15 of the best WordPress plugins available today. Only the 15 best WordPress plugins have made it while anything less than amazing has been kicked to the street. Each of these WordPress plugins are used at Site Sketch 101 and I personally recommend each of them to you.
The following plugins are posted in the order that I recommend them. St John the Baptist Primary School. Opened in 1990, St.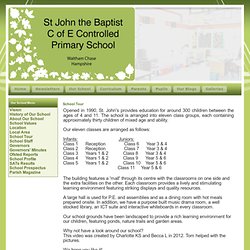 John's provides education for around 300 children between the ages of 4 and 11. The school is arranged into eleven class groups, each containing approximately thirty children of mixed age and ability. Yola - Make a Free Website. Resources. Inspiration. Free to use photos/creative commons. Huxley Prairie Festival - Home.
FeedStitch | Take your jumbled mess of feeds and make them one. Home - Nine Lion Design - The Design Portfolio of Chikezie Ejiasi. Matthew Smith. Little helpers - generators & apps. Portfolio and blog of Jeffrey Sarmiento a web designer/developer from Toronto, Canada currently working for FreshBooks. Nugent House School - special school for boys aged 7-19 years. Philpots Manor School - Introduction. A Luscious Journey. CreativePeople. The Great Bearded Reef - There's Hidden Treasure! Contact us. Www.friarswood.staffs.sch.uk/parents and visitors/funclub.htm. History. Social Mapping | Old Loft. Les Habitations Bouladier :: Home.
Freelenz. ICTmagic Resources / Make an animated 3D photo cube to embed in your site or blog. 30 Wonderful Websites With Illustrations. Illustration usage in web design is probably one of the easiest way to add uniqueness for your website.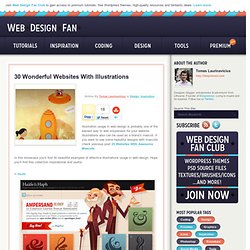 Illustrations also can be used as a brand's mascot. If you want to see some beautiful designs with mascots check previous post 25 Websites With Awesome Mascots. In this showcase you'll find 30 beautiful examples of effective illustrations usage in web design. Hope you'll find this collection inspirational and useful. Cloud expert sites.
Cool Edumations. Insync: A Google Docs-Loving Dropbox Rival. If you're the kind of person who uses Google Docs and Dropbox a lot, perhaps for business, as is becoming increasingly popular, then you will be interested to hear that Asian firm Insync has just announced that its cloud-based sharing platform is available for free.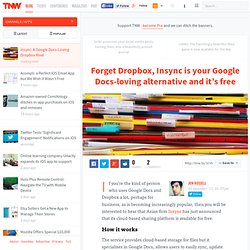 How it works The service provides cloud-based storage for files but it specialises in Google Docs, allows users to easily sync, update and share documents between others. Its user interface is a neat alternative to Google's own interface which turns your virtual docs into 'physical' files that are housed on your PC or Mac, making them infinitely more accessible and easier to view than through the standard Web interface. Shortly after loading, it will request access to your Google account, from which it creates a new 'Dropbox' folder which contains physical copies of all the files on your Google Docs account. The rest is easy, as Insync updates your Google Docs account with any changes you make to the files on your PC or Mac. 40 Online Generators for Web Designers Should Bookmark.
Online Generators for Web Designers can be a great way to save time in your web design projects.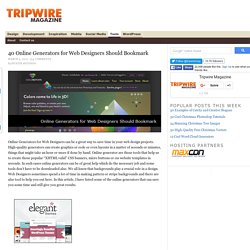 High-quality generators can create graphics or code or even layouts in a matter of seconds or minutes, things that might take an hour or more if done by hand. Online generator are those tools that help us to create those popular "XHTML valid" CSS banners, micro buttons or css website templates in seconds. In such cases online generators can be of great help which do the necessary job and some tools don't have to be downloaded also.
We all know that backgrounds play a crucial role in a design. Web Designers sometimes spend a lot of time in making pattern or stripe backgrounds and there are also tool to help you out here.
Google Sites. Webs. Webstarts. Create Your Free Website. Weebly. Sensi Soft. DesignCharts // Weekly Top 40 Website Design Charts // Because Web Designers Are The New Rockstars // Best Website Designs Updated Weekly. Web Fonts. GOOGLE EXAMPLE SITES.
---