Manualitats
O tecer num tear improvisado, dica de artesanato | Vila do Artesão. O que você precisa ter inicialmente é uma base de papelão fina mas bem firme para fazer o papel de tear.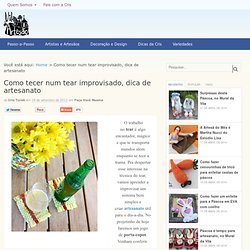 Use uma caixa de sabão em pó ou de biscoitos para recortar a sua base. O nosso projeto é de porta-copos que pedem tamanhos pequenos, mas é possível adaptar a base para tamanhos que sirvam um jogo americano ou até um tapete.
Cats Paw Hitch. Description: The Cats Paw Hitch has the same purpose as the Larks Head Knot, which is to attach cords to an object or holding cord.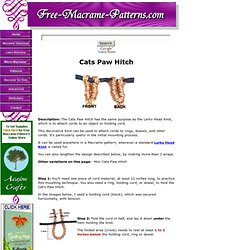 This decorative knot can be used to attach cords to rings, dowels, and other cords. It's particularly useful in the initial mounting process. It can be used anywhere in a Macrame pattern, wherever a standard Larks Head Knot is called for. The Beading Gem's Journal: JEWELRY MAKING TIPS. Designing and making your own jewelry is a popular hobby.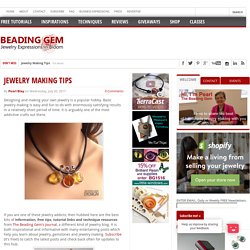 Basic jewelry making is easy and fun to do with enormously satisfying results in a relatively short period of time. It is arguably one of the most addictive crafts out there. Macrame earrings. These macrame earrings are lovely and are made in less than half an hour.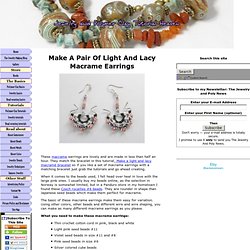 They match the bracelet in this tutorial, Make a light and lacy macramé bracelet so if you like a set of macrame earrings with a matching bracelet just grab the tutorials and go ahead creating. When it comes to the beads used, I fell head over heal in love with the large pink ones. Snowcatcher Snowflake Directory. Bauble Decoration. I designed these little hanging decorations to add some colourful, homespun Hooky Goodness to my Christmas Tree this season, but there's no reason why they can't be used all year round and in all sorts of ways.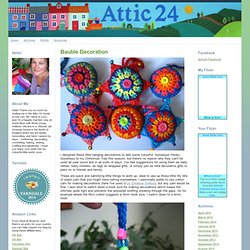 I've had suggestions for using them as baby rattles, baby mobiles, as tags on wrapped gifts, or simply just as little decorative gifts to pass on to friends and family. These are quick and satisfying little things to work up, ideal to use up those little itty bits of stash yarn that you might have lurking somewhere. I personally prefer to use cotton yarn for making decorations (here I've used Rico Creative Cotton), but any yarn would be fine. Tutoriales « Pasión Fimo. Este es un mini tutorial o casi mejor, es decir que es un truco.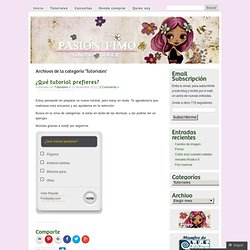 Lo leí en algún lugar de Internet, pero hasta ahora no lo he probado, y por lo tanto no lo he publicado. Cuando hacemos una murrina de una flor, siempre hay el momento de decidir su fondo, normalmente elegimos transparente, para que nos sirva en cualquier pieza mas adelante. Pero lo ideal, seria sin fondo. Quiénes somos - SeComoComprar. Moneda Bienvenido, Entrar Categorías Abalorios Accesorios y herramientas Arenas de color Barnices Bellas Artes Big Shot Carey acetato Colas y pegamentos Carnaval Contornos Cordones Craqueladores mediums y mixtion Dorados Fieltro Foamy (Goma eva) Fornituras Hama Beads Hilo Magico Imanes Jabón Labores Libros y Revistas Medula Mixflakes Navidad Mosaico Packs Pantallas lampara metacrilato Papel Decoupage Papeles Pastas y masas Patchwork Perforadoras Pergamano Pinceles Pinturas Placas Texturas Metal-Formas Plantillas Stencil Plastico magico Plumas de colores Porex Productos auxiliares Productos varios Repujado Metales y accesorios Retales de piel o cuero Scrapbooking Seda para pintar Servilletas ShapeBoss™ ShapeCutter™ Siluetas para decorar Soportes para decorar Tejas Tocados Trapillo Troqueladora FISKARS Fuse Creativity System Varios Velas Para regalar OUTLET Cursos Etiquetas.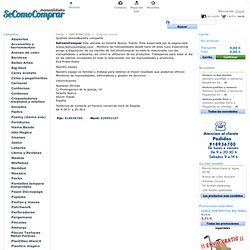 Tutorials, Tips, Help Links « This Year's Dozen. Como hacer pulseras de macrame! [patrones en imágenes] Hola taringeross!...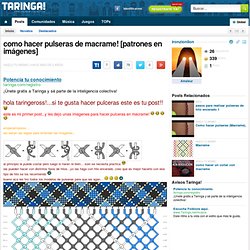 Si te gusta hacer pulceras este es tu post!! Este es mi primer post...y les dejo unas imagenes para hacer pulceras en macrame! Wrap Bracelet:) DIY Wrap Bracelet. You should all know by now that we are all about stacking bracelets on our wrists.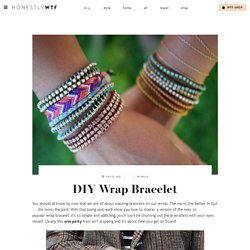 The more, the better. In fact . . . the most, the best! With that being said, we'll show you how to master a version of the ever so popular wrap bracelet. It's so simple and addicting, you'll soon be churning out these wristlets with your eyes closed. Clearly this arm party train isn't stopping and it's about time you get on board! Fusion Beads, bead, beading, sterling, seed beads, charm, swarovski, lampwork, glass, jewelry, pearls. Step 1 Cut the cord to twice the length of the desired bracelet size PLUS 12 inches.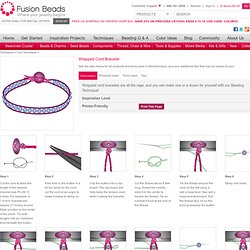 For example, a 7.5-inch bracelet will require 27 inches of cord. Variasmanualidades's Blog. Micro macrame. Craft blog : Crochet Beaded Bracelet. I've found another use for my crochet cotton thread - a beaded bracelet. It's great for summer, when you might be getting sweaty, dirty, or jumping in the pool (sea, lake, whatever), because it's washable - so you don't even have to take it off. This pattern could easily be changed to be an anklet or choker. It's a simple single crochet, so you can add stitches to make it wider and rows to make it longer. I used beads for my bracelet, but you can use anything you can string on the thread: beads, buttons, sequins ... use your imagination *and* your stash.
I reserve the copyright on the pattern and the instructions (which means you can't reprint this anywhere), but feel free to make all the bracelets you want and do anything you want with them (yep, you can sell them). How to make Jewelry for Everyone. Crafting MacGyver: Circular Logic - StumbleUpon. Papercraft Inspirations. De labores - Pagina principal. Friendship Bracelets, Bands, make your own. Directorio Manualidades. Pulseras de goma.
---