Homebrewing
Supplies and Kits
HomeBrew Ezine - Tips And Tricks On Brewing Beer From Home. Brew Your Own: The How-To Homebrew Beer Magazine - home page. American Homebrewers Association | Home. Homebrew Finds: New Brewers Guide. Are you a new brewer or considering taking up the hobby?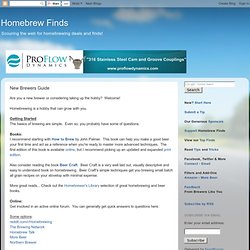 Welcome! Homebrewing is a hobby that can grow with you.Getting StartedThe basics of brewing are simple. Even so, you probably have some of questions.Books:I recommend starting with How to Brew by John Palmer. Homebrewing. A beer homebrewing kit consisting of hopped malt extract, yeast and instructions Wine fermentation vessels with airlocks Homebrewing is the brewing of beer, sake, and other beverages through fermentation on a small scale as a hobby for personal consumption, free distribution at social gatherings, amateur brewing competitions or other non-commercial reasons.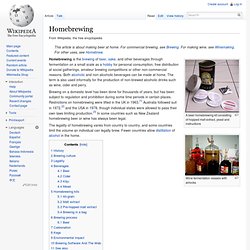 Both alcoholic and non-alcoholic beverages can be made at home.
---