Homebrewing
HomeBrew Ezine - Tips And Tricks On Brewing Beer From Home
Making your own beer is a hobby that is growing fast around the world. If you really want to know what is being put into the beer that you drink, making your own beer is going to give you all that information and so much more. There are no harsh chemicals needed to make beer, and all the natural ingredients are going to be easy for you to purchase online and offline to make your own beer. You can find any basic beer-making recipe, and then make changes to the process to change the overall final flavor and taste of the beer you make.
Homebrew Finds: New Brewers Guide
Are you a new brewer or considering taking up the hobby? Welcome! Homebrewing is a hobby that can grow with you.Getting StartedThe basics of brewing are simple. Even so, you probably have some of questions.Books:I recommend starting with How to Brew by John Palmer.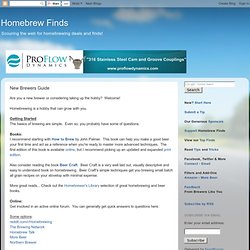 A beer homebrewing kit consisting of hopped malt extract, yeast and instructions Wine fermentation vessels with airlocks Homebrewing is the brewing of beer, sake, and other beverages through fermentation on a small scale as a hobby for personal consumption, free distribution at social gatherings, amateur brewing competitions or other non-commercial reasons. Both alcoholic and non-alcoholic beverages can be made at home.
Homebrewing