Healthcare-apps
Genomera. Heal the world.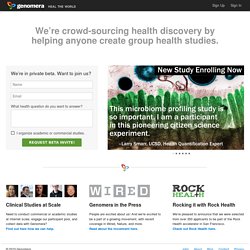 We're crowd-sourcing health discovery by helping anyone create group health studies. Need to conduct commercial or academic studies at Internet scale, engage our participant pool, and collect data with Genomera? Find out here how we can help.
CureTogether
About MyMedLab MyMedLab offers an efficient, affordable, and confidential solution to medical laboratory testing. Users are able to browse a wide array of medical laboratory tests, become informed on both the tests and diseases, and offer the ability to purchase the medical lab test directly on the website. MyMedLab's online solution is centralized around the PHR (Personal Health Record) system and allows the user to see specific test results and monitor their overall health.
MyMedLab.com - Online Lab Tests Made Simple! - Lab Tests Online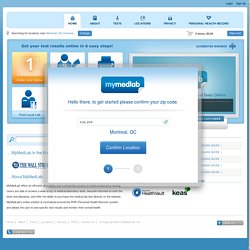 Social Content Management and Collaboration Portals for Healthcare Enterprises | Ozmosis
Free patient websites, blogs, support and community - CarePages.com
America's Top Doctors | The Best in American Medicine
Rate A Doctor & MD's - Physician Reviews & Ratings - Improving Patient Care Online
Find a doctor - Doctor reviews and ratings
UCompareHealthCare - Find Information on Doctors, Hospitals and Nursing Homes
On-Demand Clinical Case Analysis for Patients and Health Professionals - search your symptoms, diagnoses, drugs, procedures - Self-Triage and guided HPI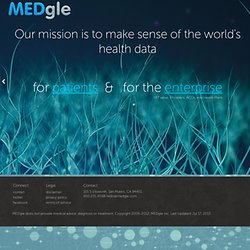 MEDgle TOS (Terms of Service) 1. Your relationship with MEDgle 1.1 Your use of MEDgle's products, software, services and web sites (referred to collectively as the "Services" in this document and excluding any services provided to you by MEDgle under a separate written agreement) is subject to the terms of a legal agreement between you and MEDgle. "MEDgle" means MEDgle, whose principal place of business is at 1151 Sonora Court, Suite 2, Sunnyvale, CA 94086, United States.