Healthcare-apps
Genomera. Heal the world. Medical Research and Treatment Information from Medify.com. CureTogether. MyMedLab.com - Online Lab Tests Made Simple! - Lab Tests Online. Social Content Management and Collaboration Portals for Healthcare Enterprises | Ozmosis. Free patient websites, blogs, support and community - CarePages.com. Treatment and Side Effect Info from Patients Like You : PatientsLikeMe. Medicine in Social Media. America's Top Doctors | The Best in American Medicine. Physician Reports - Research Doctors and Physicians including reports and ratings, patient feedback and disciplinary actions.
Rate A Doctor & MD's - Physician Reviews & Ratings - Improving Patient Care Online. Find a doctor - Doctor reviews and ratings. Doctor Reviews and Doctor Ratings | Compare & Find Doctors | Vitals. UCompareHealthCare - Find Information on Doctors, Hospitals and Nursing Homes. On-Demand Clinical Case Analysis for Patients and Health Professionals - search your symptoms, diagnoses, drugs, procedures - Self-Triage and guided HPI. MEDgle TOS (Terms of Service) 1.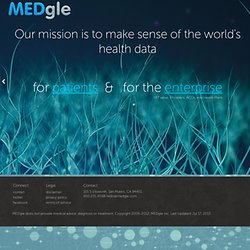 Your relationship with MEDgle 1.1 Your use of MEDgle's products, software, services and web sites (referred to collectively as the "Services" in this document and excluding any services provided to you by MEDgle under a separate written agreement) is subject to the terms of a legal agreement between you and MEDgle. "MEDgle" means MEDgle, whose principal place of business is at 1151 Sonora Court, Suite 2, Sunnyvale, CA 94086, United States. Skimble - Stay healthy and fit by tracking all your sports activities! From running, biking, hiking, rock climbing and tennis to yoga, weightlifting and gym fitness workouts. Mindbloom | Grow the life you want.
Find Doctors - Reviews & Ratings | Book Online Instantly - ZocDoc. EMR Electronic Medical Records | Free Web-Based EMR Software.
---