DROPdown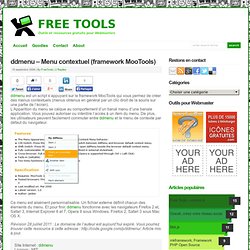 ddmenu – Menu contextuel (framework MooTools)
ddmenu est un script s'appuyant sur le framework MooTools qui vous permez de créer des menus contextuels (menus obtenus en général par un clic droit de la souris sur une partie de l'écran). L'Apparition du menu se calque au comportement d'un banal menu d'une banale application. Vous pouvez autoriser ou interdire l'accès à un item du menu. De plus, les utilisateurs peuvent facilement commuter entre ddmenu et le menu de contexte par défaut du navigateur.
Free CSS Drop-Down Menu Framework - LWIS.NET
Description Free CSS Drop-Down Menu Framework was first released back in June, 2008. Since then it has struck the audiences with its perfect cross browser performance and wide variety of drop-down menu transformations and themes.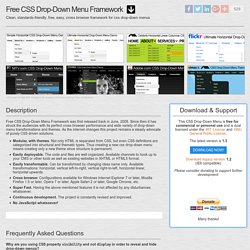 DropDowns Menu, de SohTanaka, propose de changer un tantinet la présentation nos menus. En effet, avec cette solution, les sous menus sont arrangés et classés en colonnes. Une image valant mille mots, voici un exemple concret : Sur le site de l'auteur, vous aurez le droit à une explication pas à pas, dessin à l'appui pour réaliser un menu similaire. Bref, du « bonheur en barre » pour ceux d'entre-vous qui souhaiteraient personnaliser cette solution. Et si vous découvrez le blog SohTanaka, prenez le temps de le parcourir, le fouiller et de le… dépouiller !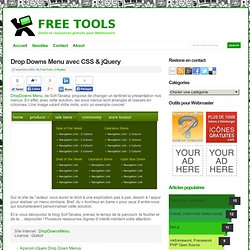 Drop Downs Menu avec CSS & jQuery
MenuMatic is a MooTools class that takes a sematic ordered or unordered list of links and turns it into a dynamic drop down menu system. For users without javascript, it falls back on a CSS menu system based on Matthew Carroll's keyboard accessible flavor of Suckerfish Dropdowns by Patrick Griffiths and Dan Webb. Demos: Demo 1: Horizontal Menu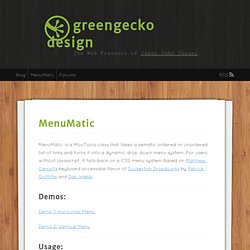 +++MenuMatic | greengecko design