iPads for learning
Definition of an Intellectual Disability 'Intellectual disability is a broad concept encompassing various intellectual deficits, including mental retardation (MR), deficits too mild to properly qualify as MR, various conditions such as specific learning disability, and problems acquired later in life through acquired brain injuries or neurodegenerative diseases like dementia. Intellectual disabilities may appear at any age.' [Source - http://en.wikipedia.org/wiki/Intellectual_disability Intellectual disability is a disability characterized by significant limitations both in intellectual functioning and in adaptive behaviour, which covers many everyday social and practical skills. This disability usually originates before the age of 18.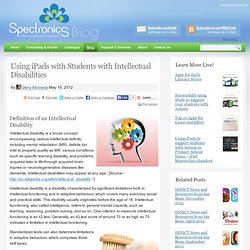 Using iPads with Students with Intellectual Disabilities
Learning Disabilities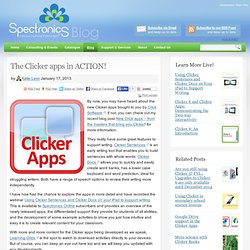 By now, you may have heard about the new Clicker apps bought to you by Crick Software . If not, you can check out my recent blog post New Crick apps – from the masters that bring you Clicker ! for more information.
Accessibility - iPad - Physical and Motor Skills
Accessibility - iPad - Vision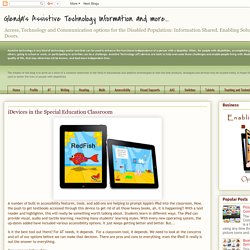 Glenda's Assistive Technology Information and more...: iPads in the Special Education Classroom
A number of built-in features, tools, and add-ons are helping to prompt Apple's iPad into the classroom. Now, the push to get textbooks accessed through this device to get rid of all those heavy books, ah, it is happening!! With a text reader and highlighter, this will really be something worth talking about.
Please can anyone help us? We are looking for hearing devices, for example FM systems linked to hearing aids that can connect directly to iPads. We want to assist children to record the teachers voice in a class on their iPads, so that the iPad can function as a note taking device.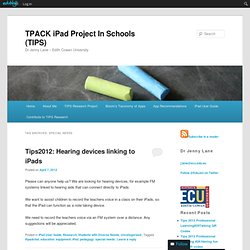 special needs
mobilelearning4specialneeds - App Lists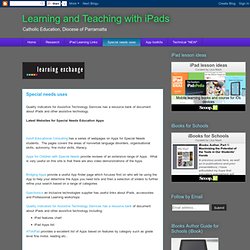 Quality Indicators for Assistive Technology Services has a resource bank of document about iPads and other assistive technology. Latest Websites for Special Needs Education Apps inov8 Educational Consulting has a series of webpages on Apps for Special Needs students. The pages covers the areas of nonverbal language disorders, organisational skills, autonomy, fine motor skills, literacy.
Learning and Teaching with iPads: Special needs uses
Learning and Teaching with iPads: Special Needs Apps for the iPad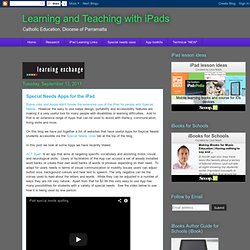 Steve Jobs and Apple didn't forsee the extensive use of the iPad for people with Special Needs . However the easy to use swipe design, portability and accessibility features are making it a very useful tool for many people with disabilities or learning difficulties. Add to that is an extensive range of Apps that can be used to assist with literacy, communication, living skills and more. On this blog we have put together a list of websites that have useful Apps for Sepcial Needs students accessible via the Special Needs Uses tab at the top of the blog.
I. D. PHILLIPS
Manor Lakes P-12 College - Home - Welcome...
Manor Lakes P-12 Specialist College Manor Lakes P-12 / Specialist College (MLC) is a new school, opened in 2009, and is located in Minindee Road, Wyndham Vale. The College is being developed for a long term enrolment of 650 Prep - Year 9 students, 1100 Year 10 - 12 students and 144 special / special development school students.
iPads for Education | Case Studies | Manor Lakes P-12 Specialist College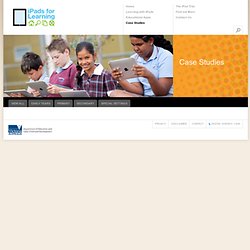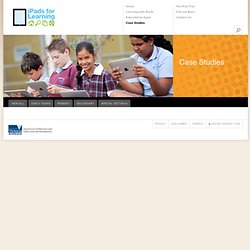 iPads for Education | Case Studies | Royal Children's Hospital Education Institute
Royal Children's Hospital Education Institute Victoria has been graced with the presence of the Royal Children's Hospital (RCH) for 140 years as a setting to meet the health and learning needs for children and adolescents. Beginning in July 2010, the RCH Education Institute became one of ten educational settings across Victoria to participate in the iPads for Learning Trial – In Their Hands. Twenty iPads provided by the Department of Education and Early Childhood Development (DEECD) were placed in the Children's Neuroscience Centre to determine the benefits of cutting edge technology to student learning in this unique setting.
Warringa Park School Look into any classroom at Warringa Park School and you'll quickly notice that iPads are integrated across all areas of the curriculum. With almost 300 iPads in the hands of students and teachers, Warringa Park School is really close to achieving their dream of a 1-to-1 program with the device. You would assume that so many iPads in one location would be a technician's nightmare but according to Blake, Warringa Park School's technician, "The devices will do me out of a job because they are so self-efficient!" Principal Colin Schot is in hot demand with invitations for radio and newspaper interviews. According to Colin, "It is invigorating and exciting to see students who could never engage with a computer or an interactive whiteboard to attempt to open and use an app in a way that you can see they are learning.
iPads for Education | Case Studies | Warringa Park School