Skin
Best Beauty Tips - Beauty Advice - Beauty Secrets. How To Shrink Large Pores. Q: How can I make my pores look smaller?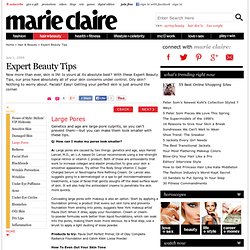 A: Large pores are caused by two things: genetics and age, says Harold Lancer, M.D., an L.A. -based Dr. Lancer recommends using a low-strength topical retinol or vitamin C product. How To Make Homemade Face Masks For Acne Scars. According to AmericanChronicle, acne scarring forms just as any other type of injury creates scars.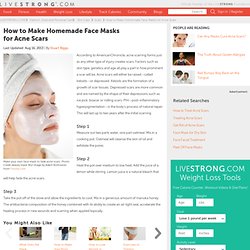 Factors such as skin type, genetics and age all play a part in how prominent a scar will be. Acne scars will either be raised--called keloids--or depressed. Keloids are the formation of a growth of scar tissues. Depressed scars are more common and are named by the shape of their depressions such as ice pick, boxcar or rolling scars. Homemade Acne Masks.Natural Homemade Beauty Recipes. Homemade Acne Masks How can you get clear skin using natural remedies from home?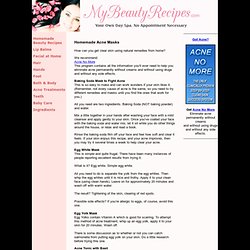 We recommend:Acne No More This program contains all the information you'll ever need to help you eliminate acne permanently without creams and without using drugs and without any side effects. Baking Soda Mask to Fight AcneThis is so easy to make and can work wonders if your skin likes it. (Remember, not every cause of acne is the same, so you need to try different remedies and masks until you find the ones that work for you.)
All you need are two ingredients. 25 Beauty Tips Reusing Household Items – Homemade Beauty Tips on ELLE - StumbleUpon. 1.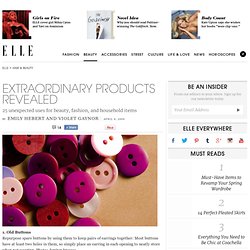 Old Buttons Repurpose spare buttons by using them to keep pairs of earrings together: Most buttons have at least two holes in them, so simply place an earring in each opening to neatly store when not wearing. Photo: Jupiter Images. Weird and Wacky Facials - Unusual Spa Facials. Dorm Room Spa: 3 Easy DIY Beauty Recipes to Try - College Fashion - StumbleUpon. Photo Credit It's that taxing in-between time of the semester again – spring break is over, papers and projects are coming due, and finals are looming ahead.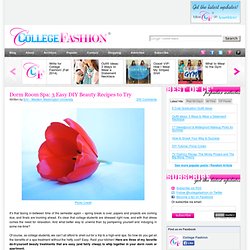 It's clear that college students are stressed right now, and with that stress comes the need for relaxation. And what better way to unwind than by pampering yourself and indulging in some me-time?
---