Breakfast
Blueberry Egg White French Toast - The Best Recipes from Our Favorite Healthy Food Blogs - Shape Magazine - Page 11. This warm autumn salad is anything but green and leafy, though it is very healthy!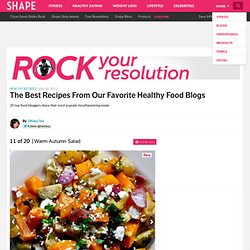 The recipes calls for veggies that tend to sweeten during the cooking process, like roasted butternut squash and red onion. Ingredients:1 small butternut squash, chopped2 apples, chopped1/2 red onion, chopped1 c. Comforting Pumpkin Pie Oatmeal - The Best Recipes from Our Favorite Healthy Food Blogs - Shape Magazine - Page 4. On a chilly morning, a piping hot bowl of oatmeal is a tasty way to kick off your day.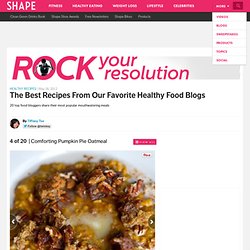 This breakfast of champions, flavored with spices like cinnamon and nutmeg, tastes just like a liquid pumpkin pie—but healthier! Ingredients:1/3 c. regular oats1 c. almond milk1/2 tsp. pure vanilla extract1/3-1/2 c. pumpkin1/2 tbsp. chia seedsPinch of sea salt1/2 tsp. cinnamon1/4 tsp. ginger1/8 tsp. nutmeg For toppings:1 tbsp. pecans, chopped1 tbsp. almond milk1 tbsp. pure maple syrup1/2 tsp. Pumpkin Pie Pancakes. Fall and pumpkins are synonymous, aren't they?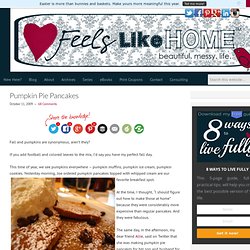 If you add football and colored leaves to the mix, I'd say you have my perfect fall day. This time of year, we see pumpkins everywhere – pumpkin muffins, pumpkin ice cream, pumpkin cookies. Pumpkin Pancakes. Pumpkin Pancakes. As promised… Also I'm planning on making these Pumpkin Soft Pretzels soon!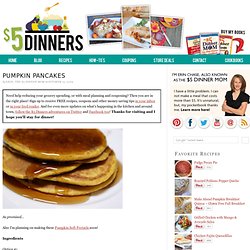 Ingredients. Vegan (or not) Applesauce Pancakes - The Thrifty Abode. I finished one drapery panel last night, but I'm afraid I won't get around to the next one until later this week.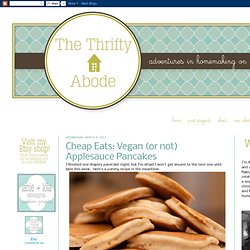 Here's a yummy recipe in the meantime. These pancakes are perfect on a Saturday morning. They're perfect for any morning. Breakfast for a Week in 10 Minutes or Less. No doubt you've heard breakfast is the most important meal of the day.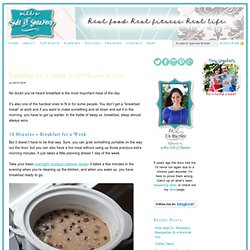 It's also one of the hardest ones to fit in for some people. You don't get a "breakfast break" at work and if you want to make something and sit down and eat it in the morning, you have to get up earlier. In the battle of sleep vs. breakfast, sleep almost always wins. 10 Minutes = Breakfast for a Week But it doesn't have to be that way. Steel Cut Oats. My oats may look the same this morning, but they've got a little something different going on this time… Inspired by an old oats article in Cooking Light and my recently stocked supply of new grains, I made steel cut oats.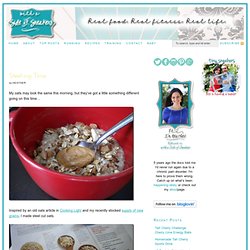 Now I've had steel cut oats before and know I really like them- they're chewier & denser than normal rolled oats- but they take quite a bit of time to prepare. Then I saw a new technique in Cooking Light, which sort of channels the whole overnight oats concept. Last night, I covered some steel cut oats (and some bulgar!) Fried Oatmeal Recipe. It's kind of a joke around here about what to eat for breakfast in the morning.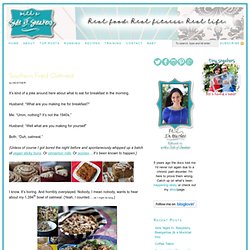 Husband: "What are you making me for breakfast?" Me: "Umm, nothing? It's not the 1940s." Husband: "Well what are you making for yourself" Both: "Duh, oatmeal." Polenta "French Toast" Fried wedges of polenta get their nuanced sweetness and spice from orange zest, cinnamon, raisins, and pure maple syrup.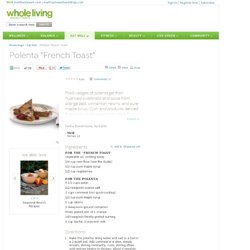 Corn and products derived from corn, such as popcorn, corn flour, and cornstarch, are gluten-free by nature. Martha Stewart Living, April 2009 Yield Serves 12. Fudgy Chocolate Chip Pancakes - 9 New Pancake Recipes. Your passion for healthy living brought you here - let's keep talking!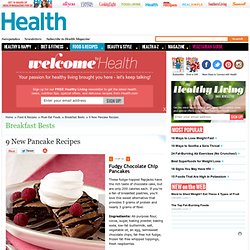 Breakfast Bests 9 New Pancake Recipes These fudge-topped flapjacks have the rich taste of chocolate cake, but are only 200 calories each. If you're a fan of breakfast pastries, you'll love this sweet alternative that provides 5 grams of protein and nearly 3 grams of fiber. Lemon-Ricotta Pancakes Recipe. Applesauce Pancakes. Peanut Butter Pancakes Recipe. Carrot Cake Pancakes Recipe.
---