Sewing
How to Make a Petticoat. So a few days turned into over a week.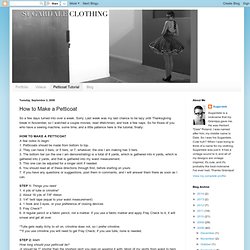 Sorry. Last week was my last chance to be lazy until Thanksgiving break in November, so I watched a couple movies, read Watchmen, and took a few naps. So for those of you who have a sewing machine, some time, and a little patience here is the tutorial, finally: Re-purposing: Tshirts into 5-strand-braided-headbands. I was walking through Target a few weeks ago and noticed this little knit fabric headband that was not just braided together…….but woven.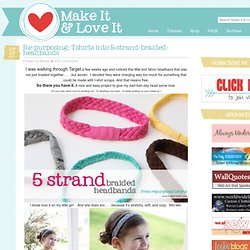 I decided they were charging way too much for something that could be made with t-shirt scraps. And that means free. So there you have it. A nice and easy project to give my bad-hair-day head some love. (Or you may need one for working out. 1-Hour Dress. May 31st, 2013 Email 287 users recommend This dress is so quick to sew, you'll find yourself making more than one.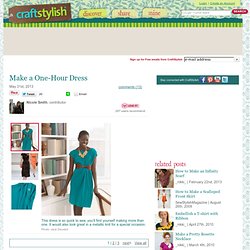 The Boxy Cosmetic Bag Tutorial. Jaime from Prudent Baby has the perfect gift for a man —the boxy man bag!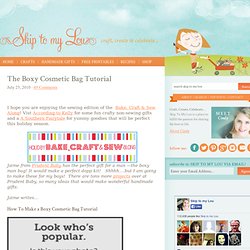 It would make a perfect dopp kit! Shhhh….but I am going to make these for my boys! There are tons more projects over at Prudent Baby, so many ideas that would make wonderful handmade gifts. Jaime writes… Inspiration Anthro : Catch and Release Scarf. So here is my tutorial for the Catch and Release Scarf from Anthro.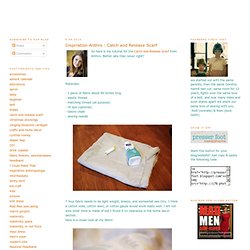 Better late than never right? Materials: - 1 piece of fabric about 90 inches long- elastic thread- matching thread (all purpose)- rit dye (optional)- tailors chalk- sewing needle. I am the princess of this dormroom! Alright!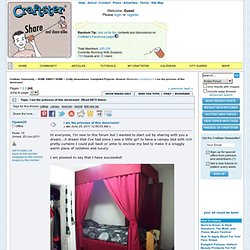 I'm going to try my hand at at Tut for this project. This is my first time doing something like this so please bear with me. No big dill. Tutorial Tuesday - How to make personlised Buttons from shrinkback plastic. Free Pattern Month Day 10 - Adventures in Dressmaking: Paperbag Skirt Pattern. I've been following Adventures in Dressmaking so long I can't remember exactly when or how I stumbled across her blog.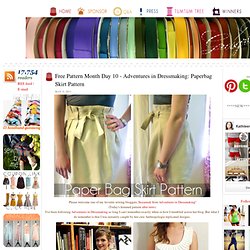 But what I do remember is that I was instantly caught by her cute Anthropologie replicated designs. The nice part about Suzannah's blog is that she shows you exactly what patterns she used to make the dress and other examples of similar dresses that inspired it so that you can create the exact same look! Like the one we're seeing today! Say YES! to hoboken: DIY: Ruffle Headband. Bow Belt. We're always looking for fun ways to add embellishments and touches of color to our outfits especially in the winter when we tend to get bored with everything and anything.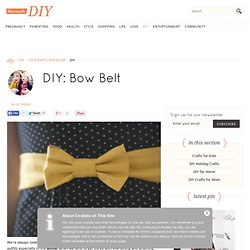 With bows being fiercely back in style, what better way than with a bright bow belt! You can pick any color for this but we'd recommend something solid and cotton. You'll need a simple snap as well to hand stitch on. The measurements for the three pieces you'll need to make are in the directions below. Free Pattern Month Day 18 - Vivat Veritas: Scallop Waist Skirt. (Today's featured pattern after intro.)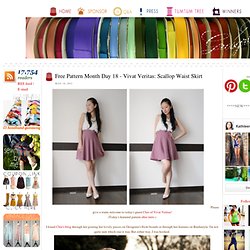 I found Chie's blog through her posting her lovely pieces on Grosgrain's flickr boards or through her features on Burdastyle. I'm not quite sure which one it was. But either way, I was hooked. I love how her clothes look amazing from the front AND back. She always on the front pages of Burdastyle and for very good reason!
Clown Costume. Winter Cape. Flower Fabric.
---