Women
PHARMACEUTICAL'S CONTROL PUTS NEW MOTHERS AND INFANTS IN GRAVE DANGER - AND POSSIBLY LITERALLY IN THEIR GRAVES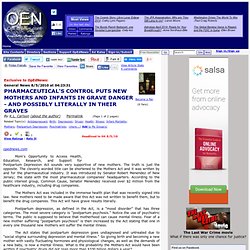 Mom's Opportunity to Access Health, Education, Research, and Support for Postpartum Depression Act sounds very supportive of new mothers. The truth is just the opposite. The cleverly worded title can be shortened to the Mothers Act and it was written by and for the pharmaceutical industry. It was introduced by Senator Robert Menendez of New Jersey; the state with the most pharmaceutical companies' headquarters.
Scientists prove that women are better at multitasking than men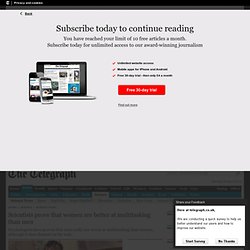 "But there didn't appear to be any empirical evidence for this. It was all based upon folklore and hearsay when I looked through the scientific literature." Prof. Laws gave 50 male and 50 female students eight minutes to perform three tasks at the same time: carrying out simple maths problems, finding restaurants on a map and sketching a strategy for how they would search for a lost key in an imaginary field. As they performed the tasks, the volunteers also received a phone call that they could either chose to answer or not.
AnyBody
Mariel Hemingway
Jen (todayyouareyou) on Twitter