THEpearltrees
What's inside the pearl? Francois. PED. The Pearl's Gazette. Hi editors and visitors!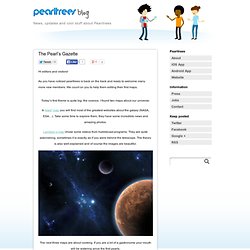 As you have noticed pearltrees is back on the track and ready to welcome many more new members. We count on you to help them editing their first maps. Today's first theme is quite big: the cosmos. Meet Pearltrees: Bookmarks with a social twist | Between the Lin.
A French Web site, called Pearltrees, is developing a Web service that is trying to bring a social networking element to bookmarking - but with the connections based on content instead of people.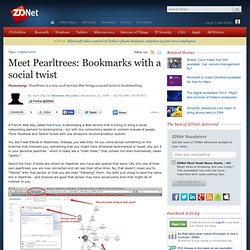 Think Facebook and Twitter mixed with one Amazon's recommendation system. You don't add friends in Pearltrees. Instead, you add links. As you come across something on the Internet that interests you, something that you might have otherwise bookmarked or tweet, you put it in your personal pearltree - which is really like a "main folder," that contain the links themselves, called "pearls. " Some photos... Pearltrees: Bookmarking Program for Organization Lovers | Techno. (This review is part of the Traveling Geeks tech tour of Paris.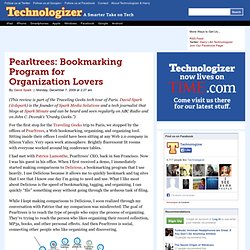 David Spark (@dspark) is the founder of Spark Media Solutions and a tech journalist that blogs at Spark Minute and can be heard and seen regularly on ABC Radio and on John C. Dvorak's "Cranky Geeks.") For the first stop for the Traveling Geeks trip to Paris, we stopped by the offices of Pearltrees, a Web bookmarking, organizing, and organizing tool. Sitting inside their offices I could have been sitting at any Web 2.0 company in Silicon Valley. Very open work atmosphere. Pearltrees: Visual Collaborative Web Browsing Interface. I am with the Traveling Geeks at Pearltrees' headquarter in Paris, I already published about Pearltrees a few months ago when it was in pre- alpha, but the public beta will launch in two days at LeWeb.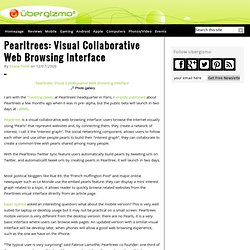 Pearltrees is a visual collaborative web browsing interface: users browse the internet visually using "Pearls" that represent websites and, by connecting them, they create a network of interest, I call it the "interest graph". The social networking component, allows users to follow each other and use other people pearls to build their "interest graph", they can collaborate to create a common tree with pearls shared among many people. With the Pearltress-Twitter sync feature users automatically build pearls by tweeting urls on Twitter, and automaticallt tweet urls by creating pearls in Pearltree, it will launch in two days.
Livstream main stage. Ustream © Search Log in / Sign up.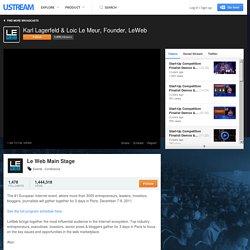 Livestream Startup & Deep discussion. Ustream © Search Log in / Sign up With Facebook (faster) Log in or sign up with Facebook See what your friends like and watch, get awesome recommendations Instant login, no passwords.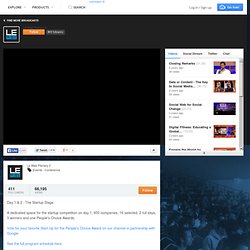 ---