Musicians
News - Austin City Limits performance announced. Good morning.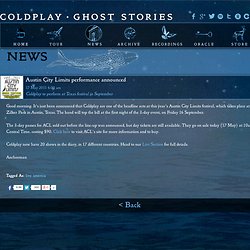 It's just been announced that Coldplay are one of the headline acts at this year's Austin City Limits festival, which takes place at Zilker Park in Austin, Texas. The band will top the bill at the first night of the 3-day event, on Friday 16 September. The 3-day passes for ACL sold out before the line-up was announced, but day tickets are still available. They go on sale today (17 May) at 10am Central Time, costing $90. Bob Marley and Lauryn Hill. Sting.com - Official Site and Official Fan Club for Sting home. If On A Winter's Night. Miles Davis. Miles Dewey Davis III (May 26, 1926 – September 28, 1991) was an American jazz musician, trumpeter, bandleader, and composer.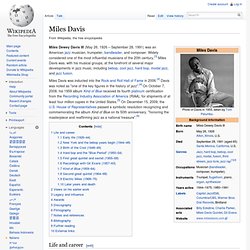 Widely considered one of the most influential musicians of the 20th century,[3] Miles Davis was, with his musical groups, at the forefront of several major developments in jazz music, including bebop, cool jazz, hard bop, modal jazz, and jazz fusion. Miles Davis was inducted into the Rock and Roll Hall of Fame in 2006.[4] Davis was noted as "one of the key figures in the history of jazz".[4] On October 7, 2008, his 1959 album Kind of Blue received its fourth platinum certification from the Recording Industry Association of America (RIAA), for shipments of at least four million copies in the United States.[5] On December 15, 2009, the U.S. House of Representatives passed a symbolic resolution recognizing and commemorating the album Kind of Blue on its 50th anniversary, "honoring the masterpiece and reaffirming jazz as a national treasure".[6]
DAVE MATTHEWS BAND | HOME. John Mayer - Battle Studies - Flash Player Installation. The Official Earth, Wind & Fire Website. KYeager (yeagerhood) Neil's Garage. Favorite DJs Blipstream | Page 1. The Official Garth Brooks Website. Carly Simon Official Website. James Taylor - Official Website. Emerson, Lake and Palmer. The Beatles. Diana Krall Official Site | Verve Music Group. Elvis Costello with... Spectacle Elvis Costello with... Media Player. Homme Orchestre.
PeggyLee.com. The Official Barbra Streisand Site. Michael Franks. Stevie Wonder ... BlackEyedPeas.com - The Official Black Eyed Peas Website. AccuRadio -- The Next Generation of Radio. BestSongsEver.com: Vote for Your Best Songs Ever! Nudge/music. Select 1 of 8 different Sound Patterns from the small Matrixes icons on the right. Use your mouse to draw notes on each 16 Step Matrix. Adjust the volume of the iNudge. Click MORE for advanced adjustment abilities. For each Pattern, adjust Volume, Mute, Clear, or set Audio Pan from Left to Right. Piano Keyboard Reviews. Facebook Anthem - CollegeHumor video. NEWS McCartney slams vegan shoe range reports Music, movie & Ent.
Guitar Master Licks | Guitar video lessons, tabs, chords, and mo. Gridlock NYE 2010 promo « Axe-Static_Process. If you're in Los Angeles at the New Year's Eve, get ready for a live midnight performance by Adam Lambert and many other artists!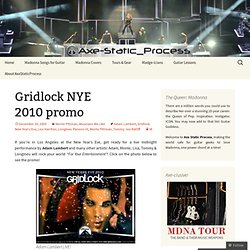 Adam, Monte, Lisa, Tommy & Longineu will rock your world "For Your Entertainment"! Click on the photo below to see the promo! The glamorous event will take place at the Paramount Studios (5556 Melrose Avenue, Hollywood, CA 900381). Mtv. Old Time Radio Network) Im Yours / Somewhere Over The Rainbow - Audio Detail - sncmusic.
The Top 100 Seventies Singles. Presents ere's the inside story -- along with links to midis, lyrics and videos -- on the Top 100 singles of the Seventies.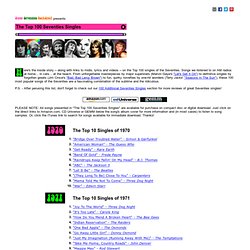 Songs we listened to on AM radios at home... in cars... at the beach. From unforgettable masterpieces by major superstars (Marvin Gaye's "Let's Get It On") to definitive singles by forgotten greats (Jim Croce's "Bad, Bad Leroy Brown") to fun, quirky novelties by one-hit wonders (Terry Jacks' "Seasons In The Sun"), these 100 most popular songs of the Seventies are a fascinating combination of the sublime and the ridiculous. Dave Matthews Birthday. Dave Matthews Birthday | Summary Summary > Dave Matthews Birthday Dave Matthews singing Rye Whiskey at Pete Seeger 's birthday party at MSG .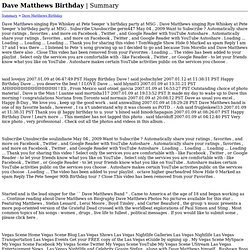 Killer seats. Untitled. Press Play: Fast Times. One way I get myself do sweaty, fast, bang-it-out workouts is by putting fast songs on my ipod.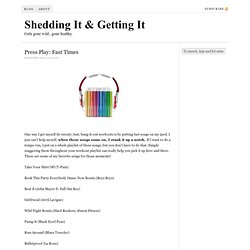 I just can't help myself; when these songs come on, I crank it up a notch. If I want to do a tempo run, I put on a whole playlist of these songs, but you don't have to do that. David Letterman Forms Record Label. NEW YORK — David Letterman is getting into the music business.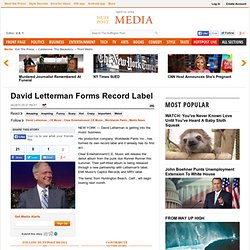 His production company, Worldwide Pants Inc., has formed its own record label and it already has its first act. Clear Entertainment/C.E. Music will release the debut album from the punk duo Runner Runner this summer. Their self-titled album is being released through a new partnership with Letterman's label, EMI Music's Capitol Records and MRV label.
The band, from Huntington Beach, Calif., will begin touring next month. Music Review - Phil Collins Plays Motown at the Roseland Ballroo.
---