Musicians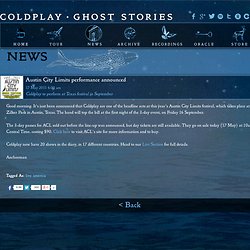 Austin City Limits performance announced 17 May 2011 6:00 am Coldplay to perform at Texas festival in September Good morning. It's just been announced that Coldplay are one of the headline acts at this year's Austin City Limits festival, which takes place at Zilker Park in Austin, Texas. The band will top the bill at the first night of the 3-day event, on Friday 16 September. The 3-day passes for ACL sold out before the line-up was announced, but day tickets are still available.
News - Austin City Limits performance announced
Bob Marley and Lauryn Hill
We Are Plastic Ono Band
Free Blues Guitar Lick #3 | Awesome Guitar Lessons - by Will Kri
If On A Winter's Night
Miles Dewey Davis III (May 26, 1926 – September 28, 1991) was an American jazz musician, trumpeter, bandleader , and composer. Widely considered one of the most influential musicians of the 20th century, [ 3 ] Miles Davis was, with his musical groups, at the forefront of several major developments in jazz music, including bebop , cool jazz , hard bop , modal jazz , and jazz fusion . Miles Davis was inducted into the Rock and Roll Hall of Fame in 2006. [ 4 ] Davis was noted as "one of the key figures in the history of jazz". [ 4 ] On October 7, 2008, his 1959 album Kind of Blue received its fourth platinum certification from the Recording Industry Association of America (RIAA), for shipments of at least four million copies in the United States. [ 5 ] On December 15, 2009, the U.S. House of Representatives passed a symbolic resolution recognizing and commemorating the album Kind of Blue on its 50th anniversary, "honoring the masterpiece and reaffirming jazz as a national treasure." [ 6 ]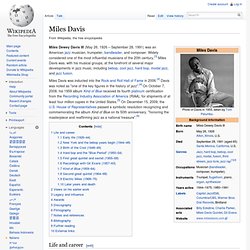 John Mayer - Battle Studies - Flash Player Installation
The Official Earth, Wind & Fire Website
KYeager (yeagerhood)
Neil's Garage
The Official Garth Brooks Website
TrishaYearwood.com
Carly Simon Official Website
Carole King & James Taylor 2010 World Tour!
James Taylor - Official Website
Emerson, Lake and Palmer
Elvis Costello with...
Spectacle Elvis Costello with...
Media Player
Homme Orchestre
PeggyLee.com
The Official Barbra Streisand Site
OK, for some reason you've arrived at the famous "Page Not Found" page. What does this mean? Quite simply it means the page you are looking for does not exist.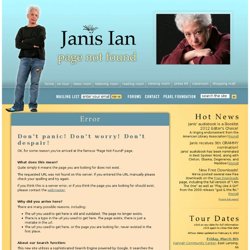 Janis Ian.Com December 2009 News Update
Michael Franks
Stevie Wonder ...
BlackEyedPeas.com - The Official Black Eyed Peas Website
Piano Keyboard Reviews
Facebook Anthem - CollegeHumor video
The Landscape of Music This map of music shows relations between musicians/groups. Related musicians are closeby and in the same country. Navigate like you would with an online map.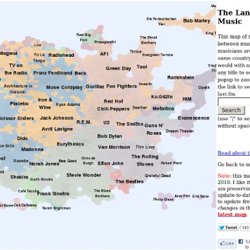 Guest Blogger Jason Reitman Talks Early Soundtrack Influences -
Lady Gaga : Official Site
Free Blues Guitar Lick #3 | Awesome Guitar Lessons - by Will Kri
Free Blues Guitar Lick #3 | Awesome Guitar Lessons - by Will Kri
Guitar Master Licks | Guitar video lessons, tabs, chords, and mo
Gridlock NYE 2010 promo « Axe-Static_Process
If you're in Los Angeles at the New Year's Eve, get ready for a live midnight performance by Adam Lambert and many other artists! Adam, Monte, Lisa, Tommy & Longineu will rock your world "For Your Entertainment" ! Click on the photo below to see the promo! Adam Lambert LIVE!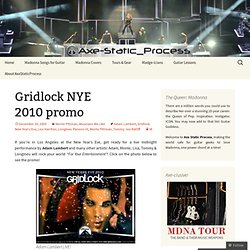 mtv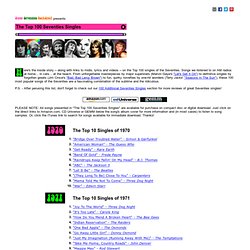 Information contained in the Top 100 Seventies Singles was excerpted from The Top Ten by Bob Gilbert and Gary Theroux (New York: Fireside, 1982), The New Rolling Stone Encyclopedia of Rock & Roll ed. by Patricia Romanowski, Holly George-Warren and Jon Pareles (New York: Fireside, 1995), and The Billboard Book of Number One Hits by Fred Bronson (New York: Billboard Publications, 1988). Rankings were compiled by Gary Theroux and Bob Gilbert through an analysis of national trade chart activity, major market radio air play, industry sales figures, and music licensing tally reports.
Dave Matthews Birthday | Summary Summary > Dave Matthews Birthday Dave Matthews singing Rye Whiskey at Pete Seeger 's birthday party at MSG .
Dave Matthews Birthday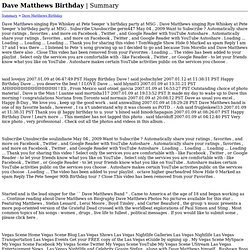 killer seats
unnamed pearl
One way I get myself do sweaty, fast, bang-it-out workouts is by putting fast songs on my ipod. I just can't help myself; when these songs come on, I crank it up a notch. If I want to do a tempo run, I put on a whole playlist of these songs, but you don't have to do that.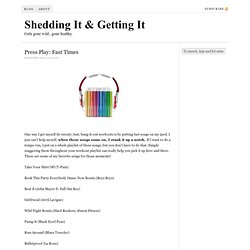 Press Play: Fast Times
NEW YORK — David Letterman is getting into the music business. His production company, Worldwide Pants Inc., has formed its own record label and it already has its first act. Clear Entertainment/C.E. Music will release the debut album from the punk duo Runner Runner this summer. Their self-titled album is being released through a new partnership with Letterman's label, EMI Music's Capitol Records and MRV label. The band, from Huntington Beach, Calif., will begin touring next month.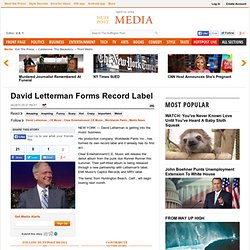 David Letterman Forms Record Label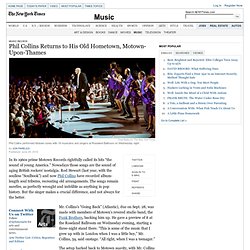 Chad Batka for The New York Times Phil Collins performed Motown tunes with 18 musicians and singers at Roseland Ballroom on Wednesday night. Mr. Collins's "Going Back" (Atlantic), due on Sept. 28, was made with members of Motown's revered studio band, the Funk Brothers , backing him up. He gave a preview of it at the Roseland Ballroom on Wednesday evening, starting a three-night stand there.
Music Review - Phil Collins Plays Motown at the Roseland Ballroo