Haiti resources
Haiti: Resources and how to help. In the wake of the utter devastation inflicted by the earthquake in Haiti, the efforts and contributions of people everywhere are crucial.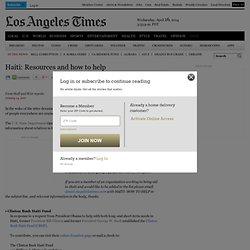 If you're looking for ways to help, try these organizations: The U.S. Carelpedre.com - U.S. Haitians Desperate to Contact Kin. Edeline B.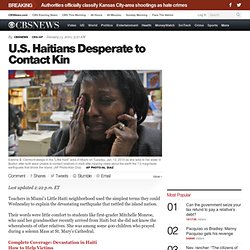 Clermont weeps in the "Little Haiti" area of Miami on Tuesday, Jan. 12, 2010 as she talks to her sister in Boston after both were unable to contact relatives in Haiti after hearing news about the earth the 7.0 magnitude earthquake that shook the island. (AP Photo/Alan Diaz AP Photo/Al Diaz Last updated 2:22 p.m. Carel Pedre (carelpedre) In Haiti, Survivors Search for the Dead, and for Solace - NYTime. Multilink Haiti (InternetHaiti) Haiti Connect | MiamiHerald.com. Voices on Haiti The earth rocked.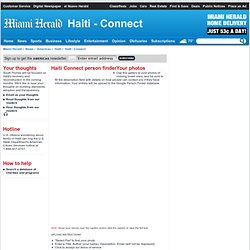 Buildings crashed. A heartbeat later, so much of Haiti was gone. Global Relief on Facebook. Chris Sacca's 'What is left?': Six ways you can help in Haiti. We are all saddened to hear of the tragedy in Haiti today.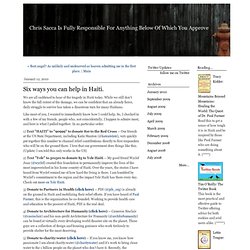 While we still don't know the full extent of the damage, we can be confident that an already fierce, daily struggle to survive has taken a disastrous turn for many Haitians. Like most of you, I wanted to immediately know how I could help. So, I checked in with a few of my friends, people who, not coincidentally, I happen to admire most, and here is what I pulled together. In no particular order: Anxious Haitians in U.S. Search for Information. UNICEF USA: Children are always the most vulnerable population in any natural disaster, and UNICEF is there for them.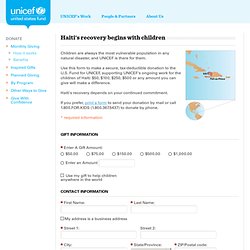 Use this form to make a secure, tax-deductible donation to the U.S. Fund for UNICEF, supporting UNICEF's ongoing work for the children of Haiti: $50, $100, $250, $500 or any amount you can give will make a difference. Haiti's recovery depends on your continued commitment. If you prefer, print a form to send your donation by mail or call 1.800.FOR.KIDS (1.800.367.5437) to donate by phone. * required information. Internet au secours d'Haïti - Actualité Internationale - Amériqu. Haiti Connect | MiamiHerald.com. $1.2 Million in Donations for Haiti, via Text Message - Bits Blo. Update | 12:48 a.m.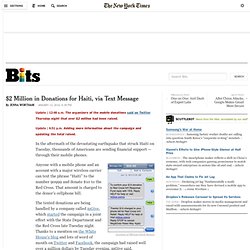 The organizers of the mobile donations said on Twitter Thursday night that over $2 million had been raised. Update | 6:51 p.m. Adding more information about the campaign and updating the total raised. How can you help Haiti? | The Daily Inquirer. Yele.org.
---