Gaza crisis
Reporting from Jerusalem — — Israeli naval ships seized control of a protest flotilla carrying humanitarian aid to the Gaza Strip on Monday, killing at least 10 people and sparking widespread international condemnation. Israeli television, citing foreign media reports, said the death toll could be as high as 16. "The images are certainly not pleasant. I can only voice regret at all the fatalities," Trade and Industry Minister Binyamin Ben-Eliezer told Israel's Army Radio. The raid set off a storm of international protest and drew condemnations from leaders of Spain, Sweden, France, Germany, the U.N., the European Union and Arab League.
Israel soldiers kill protesters trying to break Gaza blockade -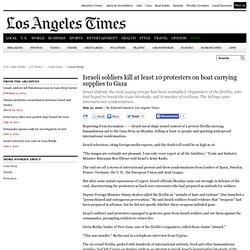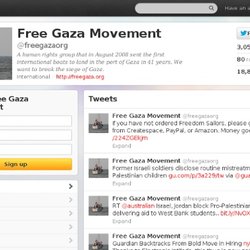 Free Gaza Movement (freegazaorg) on Twitter
Have an account? Sign in New to Twitter? Join Today »
IHH Insani Yardim Vakfi - live streaming video powered by Livest
Israeli commandos: Gaza flotilla crew tried to lynch us - Haaret
WitnessGAZA - Join us live as a witness in Gaza
By Nidal al-Mughrabi GAZA | Tue Feb 14, 2012 12:17pm EST Feb 14 (Reuters) – The Gaza Strip's only power station, which supplies the Palestinian enclave with up to two-thirds of its energy needs, was shut down on Tuesday because of a shortage of fuel smuggled in from neighbouring Egypt. The closure led to widespread blackouts for Gaza's 1.7 million inhabitants.
Participants say Gaza flotilla approached by Israeli ships - CNN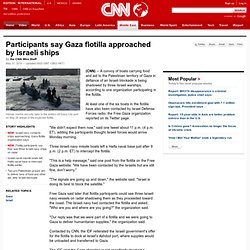 Hamas marine security take to the waters off Gaza City port on May 28 ahead of the expected flotilla. NEW: Israeli navy contacts ships approaching, Gaza flotilla organization saysNEW: Flotilla participants say they see three Israeli navy ships on radarIsraeli naval missile boats left Haifa naval base to intercept flotilla earlierTwo pro-Palestinian groups aim to deliver tons of food and other aid, defy Israeli blockade (CNN) -- A convoy of boats carrying food and aid to the Palestinian territory of Gaza in defiance of an Israeli blockade is being shadowed by three Israeli warships, according to one organization participating in the flotilla. At least one of the six boats in the flotilla have also been contacted by Israel Defense Forces radio, the Free Gaza organization reported on its Twitter page.
Written by Free Gaza team | 28 May 2010 Posted in News ShareThis WitnessGaza.com For over four years, Israel has subjected the civilian population of Gaza to an increasingly severe blockade, resulting in a man-made humanitarian catastrophe of epic proportions. Earlier this month, John Ging, the Director of Operations of the UN Relief and Works Agency for Palestine Refugees (UNRWA) in Gaza, called upon the international community to break the siege on the Gaza Strip by sending ships loaded with humanitarian aid.
Israel's Disinformation Campaign Against the Gaza Freedom Flotil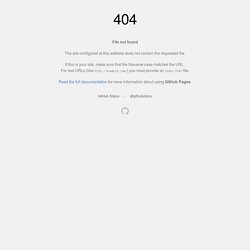 Washington DC demands safe passage for the Gaza Freedom Flotilla
Pictures from the Challenger 1, 30th May 2010.mov
Gaza flotilla drives Israel into a sea of stupidity - Haaretz Da
Cindy and Craig Corrie, US
Israel vows to halt flotilla aiming to break blockade - Middle E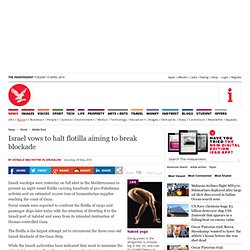 Naval vessels were expected to confront the flotilla of cargo and passenger ships later today with the intention of diverting it to the Israeli port of Ashdod and away from its intended destination of Hamas-controlled Gaza. The flotilla is the largest attempt yet to circumvent the three-year-old Israeli blockade of the Gaza Strip. While the Israeli authorities have indicated they want to minimise the risk of violence, Israeli media reported yesterday that they are prepared to take over the vessels by force if they ignore warnings not to cross from international waters into a 20 mile exclusion zone enforced by Israel along Gaza's coast.
Gaza hopes to welcome blockade-busting flotilla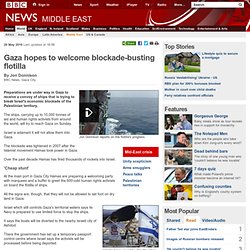 29 May 2010Last updated at 11:56 ET By Jon Donnison BBC News, Gaza City Jon Donnison reports on the flotilla's progress Preparations are under way in Gaza to receive a convoy of ships that is trying to break Israel's economic blockade of the Palestinian territory. The ships, carrying up to 10,000 tonnes of aid and human rights activists from around the world, will try to reach Gaza on Sunday.
More Than 10 Dead After Israel Intercepts Gaza Aid Convoy - WSJ.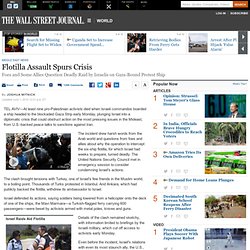 Updated June 1, 2010 12:01 a.m. ET TEL AVIV—At least nine pro-Palestinian activists died when Israeli commandos boarded a ship headed to the blockaded Gaza Strip early Monday, plunging Israel into a diplomatic crisis that could obstruct action on the most pressing issues in the Mideast, from U.S.-backed peace talks to sanctions against Iran. The incident drew harsh words from the Arab world and questions from foes and allies about why the operation to intercept the six-ship flotilla, for which Israel had weeks to prepare, turned deadly.