Art
Did Banksy's latest work bring misery to a homeless man? - Americas, World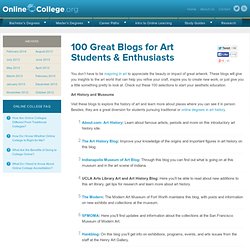 You don't have to be majoring in art to appreciate the beauty or impact of great artwork. These blogs will give you insights to the art world that can help you refine your craft, inspire you to create new work, or just give you a little something pretty to look at. Check out these 100 selections to start your aesthetic education.
100 Great Blogs for Art Students & Enthusiasts
Carol Cavalaris lives in the middle of a forest in the high country of Colorado. It is the wild beauty of her surroundings that inspires her digital paintings of wildlife and nature. Carol currently exhibits her work in several Colorado galleries, including the Grace Gallery in the famous Santa Fe Avenue Art District in Denver. She is a freelance artist for The Mountain, and creates custom art, specializing wildlife, floral, and pet paintings. Her on-line galleries can be viewed on her website at: http://www.romanceworks.com/
40 Beautiful Nature and Animal Paintings by Carol Cavalaris | Pr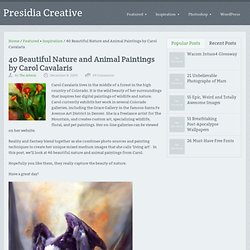 October 3, 2009
ARTISTICTHINGS.COM - Kseniya Simonova Sand Animations 4
'What's to Love?': Public Art « Downtown Olympia, WA News || Eve
October 3, 2009
The Candy Wrapper Museum
James Cullen - Oil Paintings on Canvass
Pretty Vintage Images for your artwork
ArtRage 2.5 Starter Edition & Downloads
i am jason tusman • jasontusman.com
jason (whoisJason) on Twitter
About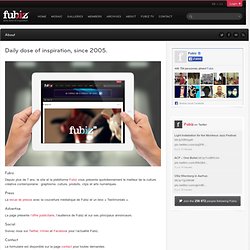 Fubiz Depuis plus de 7 ans, le site et la plateforme Fubiz vous présente quotidiennement le meilleur de la culture créative contemporaine : graphisme, culture, produits, clips et arts numériques. Press La revue de presse avec la couverture médiatique de Fubiz et un bloc « Testimonials ».
Coffee Art at WomansDay.com- Best Coffee Art of the Brew - Stumb
denverartsygal.blogspot.com/2009/08/vigeland-park-oslo-no
Cartoon
alanwild | photoblog & Urban Fox
L Filipe dos Santos
Xue Jiye | Chinese Contemporary Artist
Artos Magicus (artosmagicus) on Twitter
Louise B Hafesh (paintersportal) on Twitter
Marko Mitic Visual Art
Painter's Portal
"The most beautiful thing I've ever seen" - Roger Ebert's Journa
Painter's Portal
TWIST BISCOTTI COMPANY - RI's Best Gourmet Biscotti, Biscotti Gi
draw 365 : un album
Sarah John Afana's Page - #Artwalk
Members - ARTWALK
unnamed pearl
28 Recommended Art and Design Tumblrs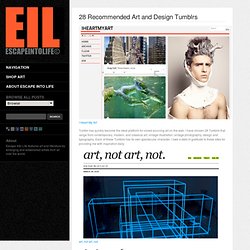 I Heart My Art Tumblr has quickly become the ideal platform for crowd-sourcing art on the web. I have chosen 28 Tumblrs that range from contemporary, modern, and classical art; vintage illustration; vintage photography; design and typography. Each of these Tumblrs has its own spectacular character.
Aloe Vera is Raw Healing at its Best | Natural Health and Raw Fo
Anton van Dalen
Carolina Souss
Photographer Annie Leibovitz : American Idols at DIA | Art Knowl
Bo Bartlett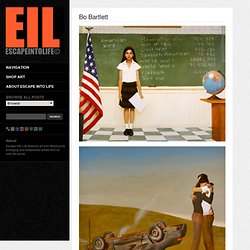 Excerpt from the book Bo Bartlett, Heartland : "Bo Bartlett is an American realist with a modernist vision. His paintings are well within the tradition of American realism as defined by artists such as Thomas Eakins and Andrew Wyeth. Like these artists, Bartlett looks at America's heart—its land and its people—and describes the beauty he finds in everyday life. His paintings celebrate the underlying epic nature of the commonplace and the personal significance of the extraordinary. "Bartlett was educated at the Pennsylvania Academy of the Fine Arts, where realist principles must be grasped before modernist ventures are encouraged.
Nation's First Cause-Driven Film Festival Now Open to Submission
Teun Hocks
About this Work: Hocks' photographs are cinematic in their process and mood. First, he constructs scenes in his studio and takes a black and white photograph. He then hand colors the photographs with transparent oil paint, taking precise care in the coloring in order to create specific emotions and atmosphere. The accumulation of these elements makes the environments seem like surreal portals.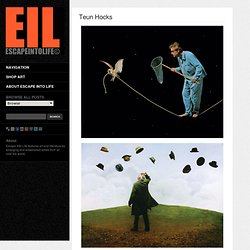 Escape Into Life
Globes - ARTWALK
Amazing Pic Sunset over Pacific Ocean.
POSTERS on the Behance Network